LumaBooth: The Professional iPad/iPhone Photo Booth App
Setup a photo booth in 2 minutes!
The easiest and quickest way to run a photo booth in your next event. Get your iPad/iPhone, install our photobooth app, and you're done.
Download Free Trial
Powerful

From the makers of dslrBooth, the leading professional photo booth software, the LumaBooth photo booth app lets you run a professional-grade photo booth for on your iPad.

Social

Let your guests share their photos over: E-mail, SMS, Instagram, Twitter, Airdrop and by scanning a QR Code. No internet? No problem, LumaBooth will queue e-mails and sms messages until you get internet access. Get a realtime online gallery for your event as well as detailed analytics on fotoShare Cloud.

Customizable

Get started using our built-in themes whether for a wedding, birthday or party or easily set your own background image, font, and colors to keep with your event's theme. Use the Virtual Attendant feature to guide guests through the experience with video and audio prompts.
Instant High Quality Prints

Print to your AirPrint printer or your professional photo printer that's connected to your computer using the FREE LumaBooth Assistant desktop app or to DNP printers using the DNP WPS Pro print server.

Complete Camera Control

Use front or rear camera in automatic or manual mode. In manual mode, you can set shutter speed, ISO, and white balance to get a consistent perfect exposure.

Multiple Layouts

Start with one of our dozen print layouts to customize prints by moving photos where you want them then adding your graphics, logos, and text with our built-in editor.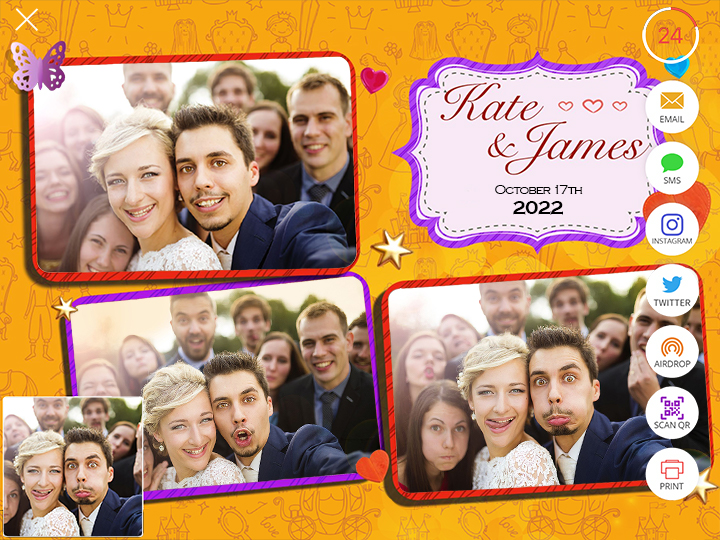 Photo, GIF, Boomerang, Video, Slowmo, 360 Booth

Let guests choose from creating a print, GIF, boomerang, video, 360/slow motion video or a combination based on your settings. You can add customizable overlays as well as pre-roll and post-roll videos.

Green Screen + AI Background Removal

Automatically remove background green screen or remove using AI without a green screen and add any photos transporting your guests anywhere in the world.

Cloud Sync

LumaBooth will sync all your photo booth event settings and template across all your iPads/iPhones so you can prepare an event at home or in the office and synch over the internet.
Online Gallery

YourYour prints, gifs, boomerangs, and videos from your photo booth seamlessly upload to our sharing site: fotoShare Cloud to create an online gallery for your event. Gallery is included with your subscription at no additional cost.

Surveys and Data Collection

Ask your guests custom questions and you can export a worksheet with all the answers at the end of the event.

Unlimited Email and SMS Sharing

Unlimited Email and SMS* sharing are built-in and included as part of your subscription.
*Receive a monthly SMS credit for thousands of sms messages to US and Canada or equivalent elsewhere.
Download LumaBooth Photo Booth App
App is free to try. If you like it, sign up for a monthly subscription for a few dollars and cancel whenever you want. No need to spend hundreds of dollars.
Available for Apple iPad/iPhone and iPhone.



Requires $19.99 subscription per month includes unlimited e-mail and sms sharing.