dslrBooth Photo Booth Software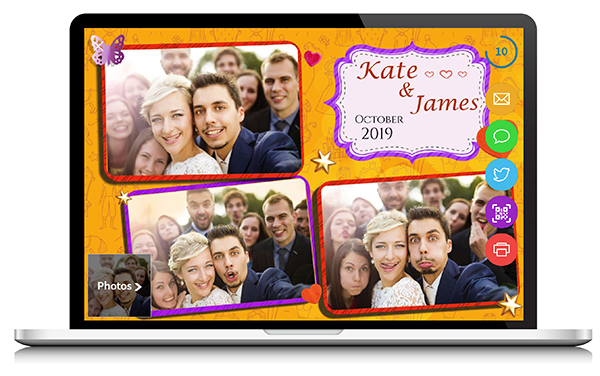 Fully Automated

Automate your workflow from capture to printing. Hook up your camera, start a session and everything else is fully automated.

Customizable Prints, GIFs + Videos

Customize prints with text, graphics, and logo with our built-in template editor. Photoshop experience not required. Add animated overlays to your GIFs and videos.

Green Screen Replacement

Automatically remove background green screen and add any photos transporting your guests anywhere in the world (Professional Edition). Optionally use 360 panoramic backgrounds.

Be Social & Share

Let your guests share their prints, original photos + GIFs over: E-mail, SMS, Twitter, and QR Codes.
Built for Professional Cameras

Compatible with Canon, Nikon, DSLR cameras, GoPro and Webcams. Get the best looking photo booth photos by leveraging your dslr camera.

Highest Quality

Highest quality prints thanks to your pro dslr camera combined with the latest in image processing technology. Standard Edition supports 4×6. Professional Edition adds support for all paper sizes.

Optimized for Touch

Built for touch screens so you can use with the latest tablets, all-in-one Windows PCs or touch monitors. All user functionality can be operated from the touch screen with no need for a keyboard or mouse. Guests can even sign their prints on the screen.

Run Unattended

Let users touch the screen or press a button and the photo booth will run itself. Optionally, you can have a photographer taking the pictures if you really want. You can also trigger using bill and coin acceptors.
Virtual Attendant (Mirror Booth)

Includes video and audio prompts to use whether or not you are running a Mirror Booth. Optionally add your own prompts.

Photo Effects

Allow guests to choose an effects to add to their photos to instagram or add them automatically. You can also apply custom post-processing using Photoshop actions or other 3rd party software.

Hookup to your iPad

Optionally, use our LumaShare iPad App to let your guests see all their photos, share, and print them.

Fanatical Support

We stand behind the software we build. No automated robots to answer your e-mail.

Built and Used by Professionals

Built by professional photographers who use the software regularly for high profile events.
Built-in Templates

Several templates are included to get you started whether you want a classic 4 pose vertical template or something more modern. You can easily tweak our templates to suit your event.

Booth Mode

Allow guests to choose between Print, GIF, Boomerang, and Video modes.

Signature

Allow guests to sign their print for a personal touch.

Multiple Video Clips

Record multiple video clips per session, automatically add an intro and outro video as well as an overlay and background music.
Remote Control and Monitor from your phone

Control your photobooth from your Apple or Android phone. Start sessions, view stats and print from your phone and our FREE Booth Copilot app from anywhere in the world.

Cropped Live View

Display the live view image how it would appear in the template or GIF, allowing guests to position themselves within the frame.

Triggers

Trigger your custom application or hardware when different events occur in dslrBooth.

Boomerang

Record a one second video then slow it down, play it forward then reverse. Customize Boomerang and GIFs with your overlay.
Professional Edition Features
Green Screen (Chromakey)
Replace a green or blue background with a custom background using state of the art Green Screen technology. The process is completely automated and effortless.
Custom Paper Sizes
In additional to the standard 4x6 paper size, print on 4×8, 5×7, 6×8, 8×10, and any other paper sizes.
Live View
Live View which allows people to see a video of themselves before the camera takes a picture. This is supported by most recent dslr cameras.
Facebook Pages
Automatic upload of all prints to your Facebook Page in the background while your booth is running. Your guests instantly see all photos and can share them boosting your social reach.
"dslrBooth is definitely worth your purchase. Had the photo booth set up for new years and it was most certainly the highlight of most people's evening. There wasn't one time that i saw that the booth was empty. Mostly how professional the software felt to use. People couldn't believe that it was a DIY job. They loved it. I highly recommend this software to drive your photobooth!"