dslrBooth Reviews
Professional photo booth software
Compatible with Canon, Nikon, GoPro & Webcam For Windows PC or Mac.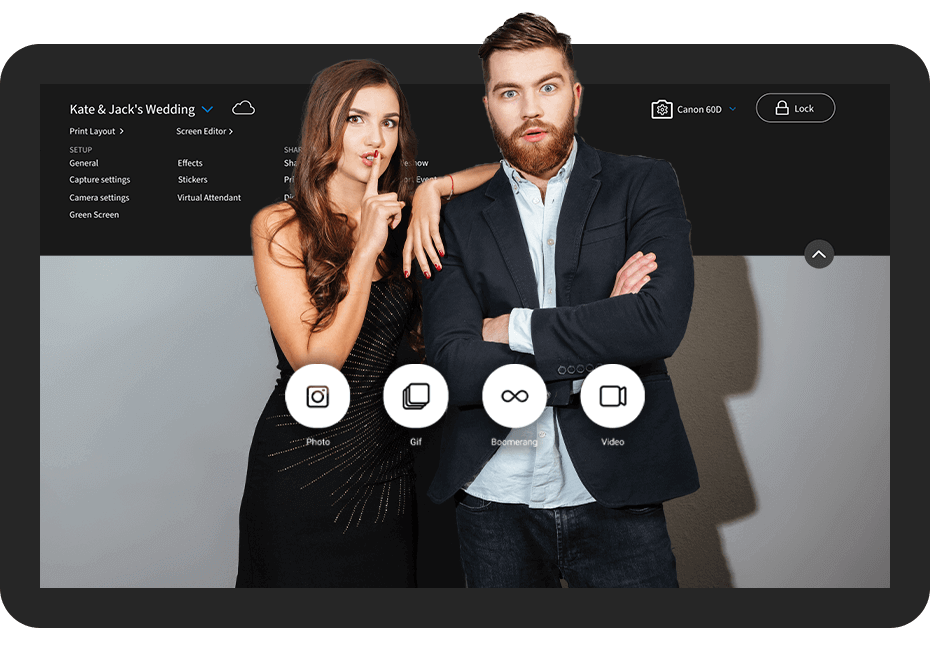 John D. from United States
5/16/2017
Right out of the box
I love this software. I literally loaded it the morning of an event and was up and running that day. The whole workflow was smooth and fast. I highly recommend dslrBooth.
---
Al H. from United States
5/15/2017
Just what I needed!
From first Google search to download and set up, dslr Photo Booth was tremendous!!!
---
Luke F. from Australia
5/13/2017
Highly Recommended Photo Booth Software (#1)
I have been using dslrBooth on Mac with my Nikon D3300 and has done exactly what I have wanted it to do, I can have Guests take photos and it will upload directly to our Facebook page. The template editor is one of the easiest to use. The support of updates comes out very regurlary keeping everything running smooth. The software works very well on Mac OS Sierra 10.12 on a MacBook Pro Mid 2010. Extremely happy with this software, would Highly Recommend
---
Johannes S. from Germany
5/13/2017
Professional Software
Ideal solution for photobooth. It's very easy to use and the software offers a lot of possibilities to customize the prints etc.
---
William A. from Guatemala
5/12/2017
excelent
i've just started my own business, and this app has everything I needed to make it easy for me. I only whish you could change more than one color on the green screen page, tho
---
Bruno G. from United States
5/11/2017
love it
we ran a 120 person frat party at Princeton U and they beat our booth up your software did not miss a beat we made 200+ strips. | |Good Job!
---
Mike B. from United States
5/9/2017
Perfect Software
We have been using DSLRBOOTH for over 2 years and the software has never failed us. Thank you to the dev. group.
---
Paul G. from Germany
5/9/2017
Good software
dslrbooth fits great into my setup
---
Roger L. from United States
5/6/2017
Great product.
This is a great product and fun for people. I only use it for events for non profit events so wish it was less expensive for non commercial use.
---
Timothy J. from United States
5/6/2017
Great
This product is great. A very happy veteran Booth owner
---
Boey i. from Malaysia
5/5/2017
Very professional Software
Hopefully more improvement and usable video for Mirror Booth which is a trend now.
---
Liviu B. from Romania
5/4/2017
Very good photo booth software
Easy to use, intuitive, reliable!
---
Mauro M. from Brazil
4/28/2017
Recomendo
Perfeito para varios tipos de eventos
---
Evagoras M. from United Kingdom
4/28/2017
Just Excellent
My subscription to my current Booth Program ran out and didn't want to re subscribe with them (as it as terrible!) so chose dslrBooth. first tried the demo version and bought the full version within 24hrs. | |This program is so stable and very easy to set up with some amazing options and customisations. | |It takes a while to work your way round (like any new program) however once you know where everything is its a breeze. | |Try the demo and you'll see! | |The user interface is simple and anyone
---
Robert T. from United Kingdom
4/26/2017
DSLR Photo Booth Pro
Nice simple software with ample features. More features than I really wanted for a very simple set up I had in mind. I already run full size photo booths and wanted a kiosk for fast set up I can offer as less cost. This is ideal. I built my own kiosk similar to Joy Booth for around £80.00 ($90) and it looks amazing. I will offer optional green-screen as an extra and just take a 2m screen to venues. I will use a speedlight simply sat on top of the box linked by radio signal.
---
Marlene F. from United States
4/26/2017
Awesome!
I love it! It works great. Totally recommend.
---
Alessandro M. from Italy
4/24/2017
Buon Prodotto
Un buon prodotto ma si può ancora migliorare offrendo maggiori opzione nella programmazione background
---
Marcel b. from Netherlands
4/21/2017
Great software
Easy to use without any problems! I love it.
---
Jovan T. from Australia
4/21/2017
I love this software
The best part for me is when I do gig and everybody is smiling and keep on coming back, for more photos, it makes me happy.
---
Nicea C. from Romania
4/19/2017
good
if I can modify the count down, and signiture neon lighting direct on photo
---
Tijuana E. from United States
4/17/2017
Dslr booth window
I enjoyed using this software for a company function I hosted using my laptop. I wished I knew more about most features with a tutorial guide instead going thru the website support. It would be benefitical to read as well as how to use a dslr Nikon camera. Overall it's a good investment and possibly many upgrade to the professional version once I'm proficient with this software.
---
Likia T. from United States
4/16/2017
It's great!! All the features
It's great!! All the features are very easy to use and I haven't had anything to go wrong so far.
---
Farhan S. from Singapore
4/16/2017
Dslrbooth
Easy to use for photobooth user
---
Stewart G. from United Kingdom
4/11/2017
DSLR Booth Standard
What an excellent piece of software. I have had rave reviews from my clients and their guests since using this for my party corner. Simple to use, customisable and mega quick. less than 1 minute from photo to Print. think I may have to upgrade to see how awesome it really is
---
Jan h. from South Africa
4/10/2017
Great for Nikon users
With my Nikon d3200 this was the only software that worked.|I went trough all possible ones.|Working great with templets from PBO and others. Keep up the good work!
---
Ian D. from United Kingdom
4/10/2017
Easy to use couple of issues
Nice and easy to use. My real issue is you have to open a new text box for every line of text. It would also be nice to be able to alter the size of the text rather than changing the text box size.
---
Bellinger M. from Germany
4/7/2017
best software ever in photobooth
best software ever in photobooth
---
Jens R. from Germany
4/5/2017
Great! Einfach großartig!
Ich nutze die Software seit ca. 4 Wochen und der Einsatz auf zwei Hochzeiten und einem Event hat sich mehr als ausgezahlt. Intuitiv, einfach und tolle Leistung! Hier bekommt man gute Software für sein Geld!|Mit besten Grüßen|Jens Reitter|JR-Fotodesign.de|Nürnberg, Germany
---
Josa R. from Germany
4/4/2017
perfekt!
awesome product! |A lot of intersting features!
---
Jessica M. from United States
3/31/2017
PHOTO BOOTH
Amazing super fun to play with make my own templets everything I was looking for.
---
Jesus A. from United States
3/31/2017
Great
Thisbsoftware keeps getting better. Thanks
---
Ray L. from Philippines
3/29/2017
So easy to use!
Love the software. It's very easy to use! And highly cuatomizable layouts.
---
Miles C. from Canada
3/29/2017
Custom wedding cake topper
It's awesome software. Best selling it with custom wedding cake topper at www.custombobble.com
---
Marketa L. from Czechia
3/29/2017
Perfect tool
Perfect tool for photo kiosk,recommended!
---
Kenneth G. from United States
3/27/2017
DSLR Booth Softwared
I have used on a limted basis and so far so good.
---
Wade C. from United States
3/24/2017
The best photo booth software
This is great photo booth software. There are constant updates and great features and great support. The green screen is the best I have used yet and I have used them all.
---
Chris r. from United States
3/24/2017
Worth the buy.
I have had other photo booth software and by far this is the easiest one to work with. I
---
Scott W. from United States
3/22/2017
Great software
We just upgraded our software this is a great software and does everything we need we have used it for
---
Pavel P. from Czechia
3/19/2017
dslrBooth
dslrBooth is great software for my business. I am using this software in my photobot - www.selfiebot.cz. Thanks to all team programmers. Pavel
---
Marcel S. from Germany
3/19/2017
super Software
Only had the Chance to try it on one event. Without any problems. only the time from taking the photo until it is displayed is a little bit to long. anything else is just amazing :)
---
Dave F. from United States
3/17/2017
3 Year User
This program works like a champ! Use Dslrbooth with DNP printers and you will have clients rave about your services. | |They have tactfully designed to give the best experince before, during, and after a session. Need to design the print? easy. Need to have clients control? easy. Need re prints? easy. Need to give a digital copy to guests? easy!
---
Alfredo C. from United States
3/15/2017
Gets The Job Done
Great software for doing photo booths. I've used it for over a year now and I love it. However, I just recently switched from mac to pc and the windows version has more options and just works better over all. Something to think about.
---
Alfredo C. from United States
3/15/2017
I absolutely love the pro version
This software is perfect. So easy to use and it has so many options. I bought it for my mac over a year ago and I have no complaints. Just switched to pc and the windows version is even better. A few more options and the Live View modes work better on the window version. I currently using dslrbooth with surface pro 4 and my old nikon d90 back up camera. It all works like a charm. I couldn't be happy.
---
Charles B. from United States
3/15/2017
Second year, getting better all the time!
I just had an open photo booth for a couple hundred kids at a middle school party and dslrBooth for Mac, Professional Edition, was a smooth-running champ from beginning to end.
---
Mario M. from United States
3/14/2017
Great Software used it this
Great Software used it this weekend on a Sweet Sixteen it was awesome I wish I can talk to a live person
---
Marcus K. from Germany
3/10/2017
Das Update lohnt sich!
Wer zum Beispiel mit dem "canon selphy cp1200" Drucker druckt, kann nun in den Einstellungen von "dslrBooth" die Ränder präzise skalieren, damit die Ränder des gedruckten Fotos nicht zu doll oder unsymetrisch abgeschnitten werden oder gar noch weiße Streifen zu sehen sind.|Ich bin absolut zufrieden mit der Software! Einfach Top!
---
D. K. from United Kingdom
2/27/2017
Review 2017
Its brilliant !...|Have had a few glitches, but I think thats down to the camera I'm using...|highly recommended
---
James A. from United States
2/25/2017
I want this to be a 5-Star Rating; but,...
After turning many of the features off, I am happy that I can take photographs with my Canon EOS 6D for my template of choice and see the images on screen before printing them. There are two features I want for a 5-star Rating: 1) the ability to take unteathered pictures. I need to move about and shoot--more than I can with a USB cable from the camera to my laptop. 2) The ability to share what I have taken and will print with my client on an extended desktop, rather than the client seeing a mirror of my work. I am miffed that I saw no warning on buying a laptop with an AMD processor until after I purchased it and installed the software. So far I have not observed problems. I want more detail on this and have not found it. As I said, I want to give the highest rating. Will you address my concerns? Thanks! --James A Artis
---
Diamian W. from Singapore
2/19/2017
My customer like it
My customers are impressed with the easy to use function and setup.. Thank you and i fully recommend this product..
---
Connie B. from Singapore
2/14/2017
Standard Edition-dslrbooth review
I find it very user friendly software. It is easy to use and adjust based on my preferences. no need to actually search any help from prifessionals in youtube tutorial because this software is as easy as 1 2 3. Thank you.My photobooth run smoothly.
---
Octavia R. from United States
2/13/2017
Loveeeee this software
Super user friendly! Nice updates!!! Ready to use immediately!
---
Alexander F. from Austria
2/11/2017
Best developed Photobooth Software
This program (pro version) has everything I asked for and more. It runs quick even on an "Intel Atom" based tablet. 100% recommendation
---
George B. from United States
2/10/2017
professional edition
It's a great buy and very easy to operate.
---
Bob D. from Australia
2/10/2017
dslrbooth professional edition
Have been practicing with a couple of different programs and although they do the same job I have found dslrBooth much more user friendly and will probably change over my other machines to this program. Bob Foto Frog
---
Zaira A. from Canada
2/6/2017
So far so good.
Had our first Photo Booth session and it went great. No issue with the program. I've trialled other photo booth programs and dslrBooth is the most user friendly for me that's why I purchased the Pro Edition. Love the green screen and live view option.
---
Andrew B. from United States
2/6/2017
So Far So Good
Just bought this software to work on my Surface Pro 3 (i5, 4gb RAM, Windows 10) It works well. Every now and then a glitch will pop up where I can't click on something or the program hangs, but no catastrophic failures. Ill be testing it a lot more to see if its booth worthy, but right now its performing well. NOT PERFET, BUT WELL.
---
Tihomir Y. from Bulgaria
2/4/2017
Great Software!
I'm really happy to share with you my opinion regarding your product.|I'm really pleased so far and I'm finding it very easy to use with all necessary functions.
---
Jose L. from United States
2/2/2017
Quick and helpful
I had questions regarding the software and how it worked. |I sent an email had all my questions answered and my small problems fixed.\rThanks bro!
---
Ariel L. from United States
2/1/2017
excellent photo booth program
Easy to setup and i'm ready to rock my daughter's 18th birthday party.
---
Richard L. from United States
1/27/2017
Great App
Very easy to use app with great customization!
---
Linda L. from United States
1/19/2017
Great Program!!!
Just as the title says am very pleased! keep up the good work!!
---
Daniel D. from United States
1/17/2017
dslrBooth Photo Booth Software for
dslrBooth Photo Booth Software for Windows - Professional Edition
---
Joseph S. from Australia
1/15/2017
A slick, useful product
I purchased dlsrBooth after reviewing many options of green screen software to support a public event. This solution proved to be by far the simplest and most reliable. However, it's green screen error correction is noticeably weaker than competitive products. In the end, it came down to ease of use and speed of getting people photographed, vs marginal quality issues - I opted for ease of use and speed in this case. |I will also say that the customer support is very strong. That's super important. So, YES, I would recommend this software.
---
Tomas B. from Canada
1/13/2017
Fantastic
Simple, user friendly..... just awesome.
---
Allysson r. from Brazil
1/11/2017
Fenomenal
Sem dúvida alguma o DSLRbooth é o software mais maduro e eficaz para Cabines e Totens fotográficos. Atualização constante demostra a preocupação com o usuário. É um prazer enorme fazer parte destes usuários.
---
Andrew A. from United States
1/3/2017
Great program! Easy to use
Great program! Easy to use and very effective!
---
Robert K. from United States
12/31/2016
Outstanding Automated photo booth
I bought this to run a photo booth for an office holiday party. I'm an experienced amateur photographer and was skeptical as to how it could be better than what I can do on my own. It is! I used my DSLR and lighting kit and let the guests operate the computer and handle the output for themselves. it took a way a giant part of the workflow and simplified it.
---
Fatin N. from Singapore
12/30/2016
dslrBooth Photo Booth Software for Windows - Standard Edition,
Very easy to use. Fast loading time. Didn't experience and hang or errors. Overall a great software. Minus one star because the brightness adjustment is very little. Needs to use another editing software to edit my pictures. Hopefully DSLR booth can upgrade for a mini photos editing before printing. Overall its a great product!
---
Juan c. from Chile
12/30/2016
very fast...
i need the app for an event and in seconds i had the code in my email. great work, great app! thanks a lot!
---
Anna A. from United States
12/29/2016
Yay dslr photo booth!
I was thrilled to read about their being a product that could transform your camera/computer into a photo booth and was even more thrilled with the results!
---
Terry H. from United States
12/26/2016
Photos4us
This is the easiest software ever. Reliable, simple, robust, and user friendly. Great support, and super communication!!
---
Bruno T. from Canada
12/25/2016
Great overall application!
Easy to setup, well design except for the template editor...
---
Robin T. from United States
12/24/2016
Awesome photo booth for parties!
Awesome photo booth for parties!
---
Rohan S. from Jamaica
12/22/2016
My First Use
It was great an the guests enjoyed it. I am looking forward to using it again.
---
Sava A. from Romania
12/22/2016
Foto Prompt
Sc Foto Prompt SRL is satisfied with this software.
---
Erick S. from United States
12/14/2016
Está muy bueno el programa
Está muy bueno el programa lo único que para modificar las plantillas cuesta un poco
---
Caireen H. from United Kingdom
12/14/2016
Happy so far so good
Happy so far so good still crashes when I unplug camera though
---
Salvador R. from Mexico
12/14/2016
Very good product
We are just discovering how much we can do with this software. Very nice tool for photoboot starters
---
Jerry K. from United States
12/13/2016
great program
I used this at an office party and this program made the party a success. I plan on using it again next weekend at 2 other parties. Thanks dlsrbooth.
---
Fidel P. from Philippines
12/12/2016
very happy
love the interface just wish there was a way to reprint the photos
---
Anthony S. from United States
12/12/2016
Awesome Flexibility, Control and Workflow
This software allows you to easily customize templates, capture photos, print photos and share photos via social media.... all in one continuous flow process.
---
Qumber M. from India
12/8/2016
Wonderfull
Its wonderful but instead of start screen image and say cheese image can you replace it with some animations.??
---
Vic E. from United States
12/6/2016
Template
I wish the customization is easier and have more option.
---
Jocelyn L. from Canada
12/6/2016
DSLR the best photobooth
I'm happy and I recommend this\rThank you very much
---
Brian Z. from Canada
12/5/2016
I WISH I had switched to dslrBooth three years ago.
I had been using Breeze Systems' NK Remote for my photobooth that I built. It offered a lot of complexity, including green screen. But as I started using it, I realized this complexity was exponentially more problematic. For instance, if I wanted to make a specialized new layout for a client and include one or two of their backgrounds, I had to rebuild in photoshop my layout screen. Then I had to save this into six different profiles, each which had to be very specifically named or it didn't work. It turned into several hours each time I made a custom setup. Several long, maddening hours, before the damned thing worked. \rAnd worked is a loose description. \rThe first time I used the green screen, it took me over an hour of panic while I adjusted the lighting just exactly to get the replacement to work. The screen had to be perfectly flat and perfectly lit. I ended up sending my wife to Walmart to buy some lamps and I duct taped a softbox on a short stand to the top of the booth because my built-in acrylic softbox wouldn't work. I also had to precisely balance a fill flash with a speedlight on slave mode. \rThe last wedding I did, a few months ago, the software simply didn't work, period. It worked on one profile, but if you switched to another, it wouldn't print. I ended up having to use tethered shooting with lightroom, manually dragging shots into a printing template set up just for this contingency, because I could not rely on the Breeze software. It left me so stressed, I thought I was going to have a second heart attack. That was the last time I was going to use Breeze. \rI wondered how anyone could set up a stand-alone unit with that software. I couldn't leave it alone for a minute without the risk of it dying. Also, after a couple hours, it would cause the D4 to crash. \rCompare this to dslrBooth. I installed it, and the interface looked modern, not like a Windows 95. I dragged eight photos in for backdrops, and it just worked. I had a webcam aimed at a loose screen, hadn't even realized it was on, and the replacement still worked. I realized the client changed their company name the day before the event, so I had to change the overlay, pronto. It took 10 minutes (including photoshop time), not four hours. The setup worked flawlessly. The lighting worked with my built-in acrylic softbox in the booth. There was ZERO time spent adjusting every parameter to make it work. It just worked. Period. It was the most stress-free photobooth I've done. \rNow I have to set up for next week. It will take me ten minutes. Thank you dslrBooth. You have a believer in me.
---
Anthony R. from United States
12/5/2016
Loved the system and the ease of use
Overall the systems worked great. I plugged in the camera and the software recognized and pulled it right up, no settings to be changed. we did have one malfunction in the middle of the even where I had to shut the software down and open it back up then reselect the template but other than that it worked great. I did also have to do the subscription for the iPad app so that they could get their pictures without the subscription notice. not a game breaker but annoying. overall made the event a success and went off without a hitch.
---
Keenan P. from India
12/4/2016
Best thing that can happen to a party!
Downloaded the trial Version a few weeks back to test it out and was really impressed with the simplicity and performance of the software. Really loving it! Thank you for giving everyone a chance to Enjoy and make use of something this Fun!
---
Barbara G. from United States
12/3/2016
Great Software
Love this software. After 100's searches for something that would work to take pictures of dogs with santa claus I picked this one. It worked awesome today. Only complaint is not having the picture id (number) show up after taking the photo. It makes it slower and more difficult to tab over to file manager to get the photo number of the originals. Thanks
---
Jeandany B. from France
12/2/2016
Awesome
This is perfect for a photobooth animation ! Thanks
---
Michael R. from United States
11/30/2016
Simple and intuitive
Software works great and is very easy to master. The background templates you see on the web are not included...even in the pro edition. So you have to spend the money to buy add on templates or spend the time to create your own.
---
Steve W. from Australia
11/26/2016
Excellent 110% service
I made my 3rd purchase of DSLR booth, yes I have tried all the others before making a decision, even just recently again. |DSLR is easy to use, and let's face it Photo booth software has the same ideas, but DSLR have streamlined it. I had a windows 10 problem, DSLR Booth were back to me fast with how to sort it out and when I had purchased standard edition but realised I needed professional the company refunded me what I had spent to purchase standard. Definitely the software I will always use.Steve
---
Francis K. from Philippines
11/24/2016
Great software and easy to use.
Great software and easy to use.
---
Angelique K. from Australia
11/24/2016
Simple to use, lots of features
This software is incredibly easy to use but still has lots of great features.
---
Rick F. from United States
11/22/2016
Fantastic software
There are no limits to what you can do. I tried using other apps that were more expensive and they couldn't even recognize my camera tethered to my PC. You can customize and create your own templates or use the ones provided. Everything can be customized to your needs. Worth every penny. Speeds up my booth exponentially.
---
Brendan m. from United States
11/21/2016
Works as advertised
Loved the software. It worked perfectly as advertised with no problems. I connected my Canon camera and it was automatically picked up by the program. I wish the "Live-View" was included in the standard version, but it wasn't difficult to use without it.
---
Jayson U. from United States
11/20/2016
Satisfied
We love using dslrBooth, never gve us any problem since day one of using the product. Highly recommended
---
Faizal R. from Singapore
11/20/2016
Vertical-Horizontal auto rotate please
very useful and I'd love it | |1. I can't access editing tools when screen on maximize view |2. vertical-horizontal auto rotate to make it perfect please
---
Jeff B. from United States
11/16/2016
DSLR Booth Professional
Great software. Works perfectly with my canon T5. Love the green feature.
---
Stuart A. from United States
11/14/2016
Excellent Product for What it Does
Needed something like this for a Harvest Event and it more than fit the bill. Easy to use and produced great results. Can't wait for the next function to use it.
---
Sam M. from Canada
11/14/2016
PhotoBoothLaval.com
Love DSLR Booth. Works great with our 3 units!
---
Hector G. from United States
11/13/2016
Super ChevereExcellent Program
Esta pero bien Chevere el programa! Ningun problema, funciona excelentemente!!
---