dslrBooth Reviews
Professional photo booth software
Compatible with Canon, Nikon, GoPro & Webcam For Windows PC or Mac.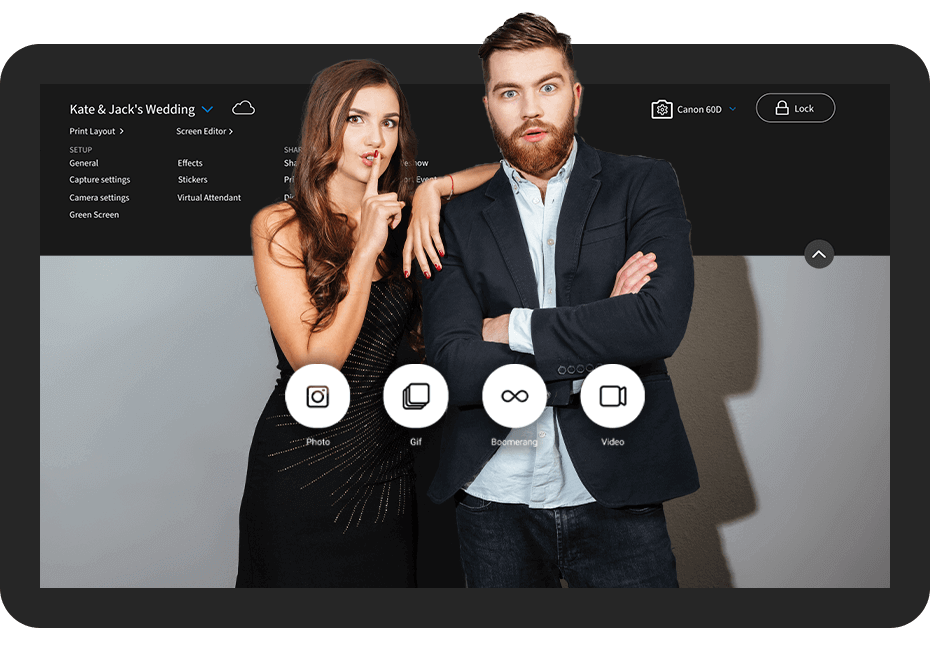 Mariano from Canada
4/7/2019
Awesome
Had breezesys for years, ...dslrbooth is better value
---
Gustian f. from Indonesia
4/6/2019
best photobooth app
im so happy use this app, but there is a problem but i think not annoy
---
Manos K. from Greece
4/6/2019
from caleidoscopio
simple and fast and very good program for my job
---
James T. from United States
4/6/2019
Great software!
User and budget friendly. I love the green screen feature. I don't know how it compares to the competition, but I'd recommend it to both individuals and businesses.
---
Dan M. from Canada
4/5/2019
Great Product
Software is easy to use and runs well.
---
Donna R. from United Kingdom
4/4/2019
Great software
We started a photo-booth to raise money for our school. This software was perfect.
---
Pavel P. from Czechia
3/27/2019
dslrBooth
This aplication is for me the best! I have two photo corners machine and for four years using this software. Thanks for this. www.selfiebot.cz
---
Leo D. from United States
3/25/2019
Extremely user friendly
New to the photo booth world. I did tons of research. I purchased a different app for my iPad booth. So far, dslr booth has been awesome compared to other software on the market. Customer service is the best on the market. The dslrbooth community have been a huge help. Purchase software with confidence!
---
S R. from United Kingdom
3/24/2019
Perferct
Amazing support fantastic program thank you
---
Jessica D. from United States
3/22/2019
Perfect for my Expo Booth
This was a hit for my Business Expo. Pleased with this purchase!
---
Ditmar K. from Paraguay
3/20/2019
excellent
I make a lot of new test, and really its much better then the older. i very happy if changes.
---
Giuseppe S. from Switzerland
3/20/2019
Perfect software
Ich bin sehr zufrieden mit dslr booth werde bald mein 2 lizenz bestellen
---
Kevin S. from United States
3/18/2019
Great Product and Support
Really enjoyed the ability to try out the software and receive great support even prior to purchase. Product is great. Flexible and powerful, yet easy to use and figure out.
---
Libor J. from Czechia
3/16/2019
Super functional
We changed to dslrBooth from another software and we were amazed how well is it made! Settings are super easy and intuitive and everything runs smoothly! Perfect work
---
Danilo g. from Panama
3/16/2019
Very good but still need to improve to fit portrait screens
People loves the boomerang but when using with a vertical screen, the camera live view does not fit the screen so people cannot see themselves completely in the screen, fix this and it will be perfect!! I really love this software.
---
Josiane F. from Canada
3/11/2019
I'v only done test in
I'v only done test in studio until now, seems satisfying for the moment!
---
Matt E. from United Kingdom
3/11/2019
Long term
I have been using the system for several years now and it great the thing that fails is usually the camera or printer thank god the software is solid ...
---
Gaetan Le Quéré from France
3/6/2019
Super mais ...
Bonjour , |J'ai choisi ce logiciel pour l'inclure a ma nouvelle borne photo . Très content du nombre de paramètres qu'il propose . Cependant, des sets animés en Français serait les bienvenus . Je recommande vivement ! :)
---
Ryan G. from United States
3/5/2019
Good App
I like the app and have used it 1 time at a fundraiser. It is a bit slow but other than that I like it.
---
Saifulizam Z. from Brunei
3/5/2019
Great stuff
SO many features to play with, but would be grateful if can connect or sync with other brand of camera example Olympus
---
Aniq Z. from Malaysia
3/3/2019
Good software!
Easy to use, user friendly,|Hope update with Instagram share button!
---
Margarette M. from United States
3/3/2019
thumbs up!
excellent for birthdays and parties!
---
Clint Z. from United States
2/27/2019
Extremely great software
I love it!! much better than breeze software :)
---
Guyot from France
2/26/2019
tres satisfait du logiciel, si
tres satisfait du logiciel, |si on pouvait choisir la langue , ça serait un + ....
---
Fernando V. from Canada
2/25/2019
Surpassed Expectations
Bought this for an event and didn't disappoint! It's great to see a basic version of fotoshare is included with purchase, though it would be nice to know what limitations there are vs the monthly plan.
---
Joao D. from Canada
2/20/2019
Excellent support
DSLR booth is always prompt in solving issues. This software comes with regular updates. |Keep up the good work.
---
John H. from United States
2/15/2019
Love this easy to use software
Only down side to this software is when used on a Mac, and your printer goes into sleep mode, there's no driver to "wake up" the printer when software starts back up. Works fine on Windows; but not updated yet for Mac users. Once you figure out to handle this glitch, everything works smoothly. Still new to it; but am please at this point.
---
Boothpix L. from United States
2/1/2019
Gets the job done with some glitches
Pros: The software is so far easy to use for both the clients and the booth owner. Very nice template generator. Very customizable. Fast response to printer. Haven't tried the sharing features or green screen yet. |Cons: live view of camera looks blurry even though pictures come out crystal clear. Wish there was a way to play the gifs automatically at the end of session while photos are printing. There's been some very annoying glitches. I can't use my ring light flash because the pictures come out way too bright. I try using the DSLR camera wizard but it makes the whole software freeze and become no longer usable so I have restart the whole surface pro. I'm forced to use my Nikon camera on auto because any other setting makes the software freeze after the first shot. Hope these issues are fixed in future updates.
---
William H. from Canada
1/31/2019
Solid Solution
It is early to tell, but the software package works well and has many great features. Just wish it would let you instant two installations on any system. Buying twice for Window and OSX is annoying. One on Windows and one on OSX would be ideal for me right now.
---
Andres H. from United States
1/30/2019
Love it
So far I love it. Couldn't be any happier.
---
Jan M. from Canada
1/25/2019
Dslrbooth Mac
Awesome software so easy to use... one concern in particular i do have macbook pro 2017 base model but every time i have to resize my Png image it will stop working..i have to force quit all the time to able to work again...\rJan
---
Rogelio R. from Italy
1/22/2019
Good Photobooth software for my Nikon D5200
I used it in my friend birthday as a first timer photobooter, it's easy to use,, but sometimes my green background can be seen in some shots but maybe it is my lighting is not good, thanks to dslrBooth !!
---
Tomas M. from United States
1/17/2019
I just opened the software
I just opened the software and have to sa I love it
---
Charlene G. from United States
1/16/2019
dslr Photo Booth Software
As being new mirror booth owner, we were using Darkroom and found it to be very difficult and not user friendly. A friend told us about dslr. We tried to free download and found it to be exactly what we want and need! It is very easy to use. My husband is having a blast with it and we can't wait for our first event!
---
Vinkensupport from Netherlands
1/15/2019
WOW
In search of a simple solution for our new booths, we came across many options. After a lot of testing of the various|  other providers, it still kept coming back in the favorite list. When we saw the price, we did not have to think twice about buying a license. And it works perfect! Simple, fast and well thought out!
---
Daniel B. from United States
1/14/2019
The Photo Booth Software You Need
Wanting to do our own booth for our daughters graduation party I downloaded 6 well known software packages to test - the dslrBooth was the first one I would test but once installed it would not load - so I moved on to the other 5 was not to impressed - as I continued to research online one site after another highly recommended dslBooth - so reached out to dslrBooth and they were very helpful getting program up and running (it was a setting in a configure file) - I spent the weekend using the program and discover this a fantastic program - easy to use - and the best part is using Photoshop to create my own backdrops and use them to create customized template - better yet is the approach it uses to create templates with layers similar to Photoshop - I'm using dslrBooth on a Surface Pro 3 tablet and it's built in webcam - haven't used it yet with my Canon 60D - anyway, very excited to master dslBooth before my daughters graduation party in June. At half the price their competition it is definitely worth the cost and easier the learn.
---
Evelyn R. from Australia
1/10/2019
Happy
Give you 5 :star:️:star:️:star:️:star:️:star:️
---
Paul S. from United States
1/8/2019
Top Software
Einfach n geiles Tool. Macht richtig Spaß Bilder zu knipsen. Einfach genial. Preis Leistung lohnt sich auf jedenfall. Installieren. Registrieren, kurz einstellen und los geht's.
---
Paul F. from United States
1/4/2019
Great product but...
This product is great! The basic photo both software and automation are fantastic and very easy to setup and use. When you try to do some more advanced stuff it has a few glitches still to be worked out specifically with the green screen effect, customers being able to choose templates & backgrounds and digital props. Some specifics, Not being able to resize the green screen object is real limiting factor for this program. Also if you want use multiple photos and put digital props on it only places them on the figure where the last green screen box position was for the last photo. (this moves the props on all the other photos to reflect this green screen box position).\rOverall great program though you see I gave it four stars. Was great fun for our Christmas door event!
---
Matt from United States
1/3/2019
We love this Photo Booth Software!
After much research and reading reviews, we decided to give dslrBooth a try. What a great decision we made! It is really easy to use and our guests have loved the experience. This is our first photo booth software and the only one we ever plan on using! Thank you for making such a great product that is easy to use!
---
Dhamar R. from Mexico
12/23/2018
me encanto
Es un programa muy fácil de usar y muy buen programa
---
Melissa L. from United States
12/22/2018
Love this product!
Just make the switch from one photo booth software to this one and I'm very impressed! Customer service answered all my questions ahead of purchase and actually did a screen share with me to go over my main concerns before the purchase. So far I'm quite impressed!
---
Antoine K. from Lebanon
12/20/2018
Live view
Live very slow and most do better one . Everything else is perfect
---
Chengdu T. from Belgium
12/18/2018
Work good...shame templates are quiet
Work good...shame templates are quiet expensives
---
Cedric A. from France
12/15/2018
Super logiciel
Idéal pour photobooth très complet
---
Derrick R. from United States
12/15/2018
Great software
This will be my 1st time renewing. Great program very easy to use. 2 thumbs up!
---
Cathy P. from United States
12/7/2018
Second year renewal
The professional edition is easy to use and my customers love the results
---
Mauricio P. from Honduras
12/5/2018
Excellent software
Please make a software for mirror booth
---
Brad H. from United States
12/4/2018
Great!
I am so excited to see what all can be done! Our church will love the chance to give fun photos to the community!
---
Jean-christophe S. from France
12/4/2018
A good Soft
A very good soft, runing on 4 of my photocall.\rThe soft must be now more better and integrated that the customers can choose 1, 2 , 3 4, pics with the same themeplate, or select the themeplate they whant after the picture
---
John W. from United States
12/3/2018
Fantastic
It has so many customizable features, and is very easy to understand.
---
Martin J. from United States
11/28/2018
Well worth it for a novice PhotoBoother!
I tried getting freeware to function properly with a DSLR and a Surface Pro and just couldn't work out the kinks. Purchased this a day before a friends event and had 30 people in line waiting to use it by the time I got it all staged. Worked flawlessly for the next 5 hours - not a glitch with over 700 pix. Great Value!
---
Jürgen from Austria
11/24/2018
Dslr Booth
Hallo ist die Software auch auf Deutsch umzustellen, oder nur auf Englisch? lg Jürgen
---
Junbin L. from Singapore
11/23/2018
All is well with some suggestions
Everything working fine. Would like to see scalable size for green screen keyed images
---
Zenco H. from Brazil
11/14/2018
Camera conection
Wifi conection with camera is very useful for me.
---
Luis M. from United States
11/12/2018
dslrBooth knocks it out of
dslrBooth knocks it out of the park with professional features and ease of use. No complaints from me.
---
Natalie A. from United Kingdom
11/11/2018
Excellent!
Love the software, very customisable, great for the price!
---
Juan G. from Costa Rica
11/11/2018
Useful
This is a very easy software to use. Its interface is really friendly. There are 2 recommendations I would like to highlight. |1) the photo quality is very low. It should be higher |2) with the standard option we should be able to change the paper's sizes.
---
Robert M. from United States
11/10/2018
Nice to have green screen and live view feature with webcam
Well worth the upgrade for these new features. Also is was easy to install over the old version|.
---
Jason W. from Canada
11/9/2018
Easy to use software
The program is easy to use and has lots of great features. It would be nice if it came with more print templates, but the program does have the ability to easily make your own custom templates.
---
Desiree P. from Germany
11/8/2018
Super Programm leider nicht auf
Super Programm |leider nicht auf Deutsch :-)
---
Francesco C. from Italy
11/2/2018
Long last!
I am very satisfied with the product that far exceeds my expectations. For some time I was looking for a professional solution for my projects, finally with DSLRBooth I can realize them. Thank you.|Francesco Casini
---
Jia L. from Australia
11/1/2018
Great little tools
We've got it for our company use. It's works fabulous. We use it on windows laptop and using another app linking it to the ipad. There is almost zero delay using them in a system like that. Great apps overall.
---
Jenna S. from Barbados
10/29/2018
Great product!
I purchased the photo booth standard software to use at a School Fair for fundraising, and it was great fun!
---
Tai P. from United States
10/29/2018
Great software
Easy setup, great software and many options to choose how you set your booth. Simple to hand off to volunteers to run it.
---
Pam F. from United States
10/28/2018
Practical + and Affordable, too
I love the features this has. I can create my own templates, save all of the photos taken (going into Thank You cards), their emails, etc, if they entered it. Am still playing with some of the settings - there are so many to use if you want to - but am looking forward to using this software again and again!
---
Mock from United States
10/24/2018
License Renewal
Great product. Easy to use. A lot of fun for guests.
---
Christian B. from Germany
10/24/2018
A good software for Phtobooth !
Good, easy to use, fair pricing, updates - all what I need :-)
---
Jacob E. from United States
10/22/2018
Live View is a Must
Upgrading to the Professional Edition helped me and my clients. I can now easily tell them to make sure they see where they are on the screen so they know if they are centered on the picture or for a large group if they are all able to squeeze in. I tested the Green Screen back when I used to have Standard now that it's included on the Professional I can offer this to my clients now. I love this software and I will recommend it to everyone.
---
John M. from Saudi Arabia
10/20/2018
Magnificent
I am in awe with how smooth and responsive the application is. I love how its just plug and play. And the features are amazing.
---
Aamer A. from Jordan
10/19/2018
Very good software but needs
Very good software but needs huge processing power
---
Sam W. from Singapore
10/18/2018
great product!
works as advertised! really took the pains out of running a photo booth.
---
James s. from United States
10/17/2018
Great Photobooth Software
dslrBooth is a feature rich photobooth application.
---
Donald w. from United States
10/17/2018
Wonderful dslr photo program
It's very user friendly and much more simplistic to work with then the previous competitors software that I have been using. Very affordable too. Thanks
---
Thomas J. from Germany
10/6/2018
Incredible!
So many possibilities for you professional and personal photobooth!|Clearly and structured.\rWorth any Money you spend on it.
---
Julie E. from France
10/6/2018
Photobooth personnel pour fete d'anniversaire
Ma fete d'anniversaire a été parfaite aussi grave au photobooth. Au top, l'application est nickelle, rien ne plante, c'est super !!
---
Rene S. from Germany
10/4/2018
Realy good ideas, fantastic support!
Realy good ideas, fantastic support!
---
Matt G. from Canada
10/3/2018
I love this program!
Very intuitive and easy to use :)
---
Fery S. from Indonesia
10/1/2018
dslrbooth standard edition
it's very helpfull for my hobbies
---
Leona S. from United States
10/1/2018
Super Fun!
I bought this for a father daughter dance event. Everyone had a great time taking pictures.
---
Stefan L. from Romania
9/26/2018
Awesome
This software is absolutelly awesome. It has all the features I need.
---
Peter w. from Australia
9/24/2018
Awesome product
Easy to setup and easy to update, would recommend to anyone
---
Tony P. from United States
9/19/2018
Loved it
I love this software great way to start my lil business.
---
Aravindhsibi A. from India
9/15/2018
Excellent
Very easy to use and customisable
---
Daniel T. from United States
9/15/2018
Great tool
Very easy to use and set up. Template editor is also straight forward and intuitive.Would definitely recommend buying it.
---
Dennis D. from Canada
9/14/2018
Awesome
Works perfect for my needs...lots of options and the help desk is amazing
---
Melvin S. from Indonesia
9/12/2018
review
this app is very good! so easy, fully support. |can be, print mode 4x6 can display, 2 4 6 print? because on 2x6, the result print is not precision
---
Pamela L. from United States
9/12/2018
Love It
The best app ever and very easy to use
---
Robert S. from Germany
9/11/2018
Gute Software - mit Luft nach oben
DSLR Booth ist meine aktuelle Wahl für meinen Fotobooth. Ich komme mit der Software gut zurecht, auch wenn hier und da die Menüs etwas frickelig erscheinen. Wichtig ist mir vor allem eine stabile Laufzeit, ohne dass ich Angst haben müsste, dass das Programm plötzlich ausfällt. Ich nutze DSLR Booth mit einem Microsoft Surface Pro 2, bin also auf Touch und FullHD gezwungen. Nun zu den Mankos und dem verfehlten Potential:\r- Die Menüs lassen sich nicht in der Größe verändern, sodass ich häufig Probleme habe, das Fenster nicht verschieben zu können. Entsprechend wechsel ich in den Portraitmodus, verschiebe das Fenster nach unten und wechsel wieder in die Panoramaansicht.|- Nach den letzten Updates hadere ich mit der Geschwindigkeit des Programms. Hatte ich noch vor kurzem eine Latenz von 5 Sekunden nach Aufnahme bin ich jetzt bei ca. 14 Sekunden Pro Foto nach Aufnahme - eineutig zu lang|- Schriftarten lassen sich nur auf dem Template ändern|- Touch-Eingabe auf Menüpunkte löst häufig schon ein Foto aus|- Video-Wierdergabe verzögert, sodass sie nicht sofort nach Foto auslöst\rAlles in allem marginale Fehler, aber die gehen zu Lasten eines Rundum-Wohlfühl-Gefühls
---
Cory B. from United States
9/11/2018
Great DIY
Having a party want to do something fun. Easy to use with what you already have. Hooked up my laptop to my printer and done!|Everyone loved it! |They used it all night!!
---
Pierre from Brazil
9/10/2018
dslrBooth
Good morning, how many PCs can I install?
---
Matt B. from Australia
9/10/2018
Does exactly what it says on the box
Great product, bought it for my brother's 18th and worked like a charm. The price tag is probably a little high for the way we were using it, but you can certainly get your money's worth using the filters and templates
---
Mark W. from United Kingdom
9/8/2018
Great software still working it
Great software still working it all out needs to work on 2 or 3 devices
---
Ramon O. from United States
9/8/2018
DslrBooth Great Software
DslrBooth Photo Booth works great will recommend to anyone.
---
Bier V. from Germany
9/7/2018
Best ever
Best support, great stability ion right hardware !
---
Deborah B. from United States
9/7/2018
dslr photobooth software does the job!
Bought the dslr photobooth software and in a couple ole days put it to the test! Easy to make logo template for the event. Makes everybody happy to get a photo on the spot! Use to take event shots, take home, photoshop and then mail. dslr photo booth standard makes it so easy to shoot, print, and then done! Thanks for a great easy set up! Big hit of the event that supports the free medical clinic in our community!
---
Juan V. from Guatemala
9/6/2018
Hello ... So far it
Hello ... So far it has worked well, although I must say that I have used it a little .. very soon I will give more comments. The only thing that I regret is that it can not be used in Spanish language, that would help more ...|Regards..
---
Christina Z. from United States
9/4/2018
Easy to use!
The software is easy to load and easy to use. It took me a little bit to get the templates set up but I had a successful event using the green screen capability in the professional version. We will definitely be using this software again for our events.
---
Christopher C. from Trinidad & Tobago
8/27/2018
So far so Good
Hi Guys,\rSo far so good. Downloaded the trail and was able to get a full understanding of the software before buying. Tested it out at an event this weekend and it worked like a charm.\rI am quite satisfied thus far and if I have any issues I will be sure to contact your team.
---
Janicemay I. from United States
8/26/2018
Love it!
I'm in love with this software… its really simple to use and offers great presets to you when shooting photo booths at parties.
---
Josef S. from Germany
8/25/2018
First use of Photobox
Hello\rI presumably have double-registered!\rI'm happy with the software at the moment – but I don't know all the functions yet.|What I noticed – I use an older Canon 7d – that with the greatest picture quality on a 32 GB CF card after about 100 pictures The message comes "card full".\rGreetings from Germany\rJoseph Stukenbrock
---