dslrBooth Reviews
Professional photo booth software
Compatible with Canon, Nikon, GoPro & Webcam For Windows PC or Mac.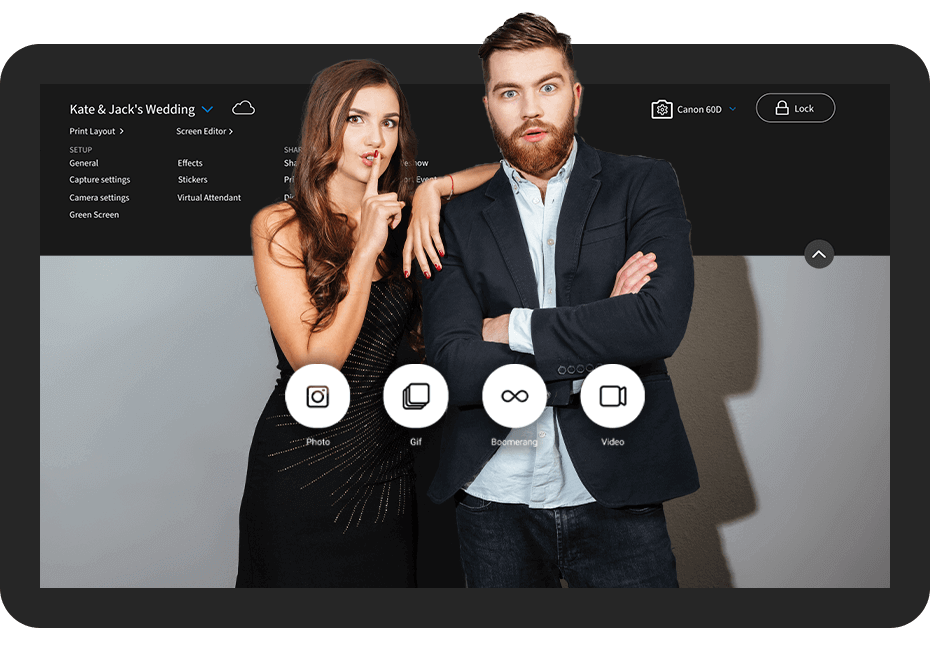 Victor A. from United States
7/26/2017
Easy to use
It si a great app. Easy to use. What will it cost to update to pro?
---
Neil l. from United Kingdom
7/24/2017
Great software
Software is fantastic stable and does what it's meant to do. Wouldn't use anything else run 3 photobooths and all 3 use DSLR booth along with our selfie mirror just need a Mac mirror verison so releaee soon.
---
Gilles B. from United States
7/21/2017
Ditched Social Booth and I'm happy
I love this software. Obviously, there's room for improvement (every software does) but I love how easy it is. I was able to master it's in an out in 2 hours. I've done few things to make it crash (from my Social Booth experience) but this darn thing handled it perfectly. Good job on this thing.
---
Zulraidi S. from Malaysia
7/19/2017
dslrBooth Photo Booth Software for Windows - Professional Edition,
Easy to use and perfect software for photo booth. Sometimes software is not compatible esp for green screen.
---
Marty P. from Germany
7/19/2017
Second Licence
I bought already the second licence. The Software gets better and better and has the best Price on the market.
---
Dian k. from Indonesia
7/19/2017
Nice Work!!
DSLRBooth makes my job perfect and run smoothly
---
Mai N. from United States
7/17/2017
I love it! User friendly
The past year I haven't had any real issues with the software. It is user friendly and simple just how I like it. I recently update the software this past weekend and the software has been glitching more than usual. Freezing has been the biggest factor.
---
Amir s. from Malaysia
7/14/2017
Great
Great software. Very user friendly. Otherwise is very recommended.
---
Guy G. from Belgium
7/14/2017
Best photobooth sofware
Still the best photobooth software, 3 years in use en happy with results, great vallue for the money
---
Steve W. from Australia
7/10/2017
Renewal without hesitation.
A very smooth easy to use application that has everything needed in a photo booth.Cheers
---
Nicholas T. from United States
7/8/2017
awesome
worked flawlessly and beautifully. easy to use and can also customize a ton! great value and nothing better for a photobooth. Cant recommend enough. had all sorts of graphics and animations for instructions. super well made
---
Michael A. from Germany
7/5/2017
Software Deutschsprachig
Very good program. Too bad it is not readable in German. This would certainly be helpful for the premium
---
Eliza-rut D. from Romania
7/4/2017
Good software
some bugs when disconecting the camera from the pc, sometimes dslrBooth would crash but in rest nice and usefull software
---
Disdatas o. from Germany
7/4/2017
Top System
Not so often that a software runs without any errors!
---
Cindy h. from United States
7/3/2017
Good
Anxious to see how well the extraction works on the green screen.
---
Steven H. from South Africa
6/27/2017
Phenomenal software!!
The Photobooth software is basically flawless, yet DSLR Booth still finds ways to improve on the software.\rI've been using DSLR BOOTH Professional for a year now and cannot recommend the product high enough. \rThe support from this company really is fantastic and they reply within minutes most of the time.\rI have also used their Hashtag booth with great success. Keep up the great work guys,\rSteven Heyns - The Wedding DJ - Durban South Africa
---
Aimee M. from United States
6/27/2017
Easy Software to use!
Loved the functionality. Took me about 15 minutes to familiarize myself with the functions and to choose the options for my setup the next day.
---
Tyler M. from United States
6/26/2017
Great program for a great price
This photobooth program is perfect for any occasion, relatively simple to set up, and it's so much more reasonably priced than other photobooth software. I am very satisfied with my purchase
---
Shaun G. from Canada
6/23/2017
Great program
Very easy to use. Had it up and running in. 5 mins. Great features to start your own photo booth.
---
Sergio G. from United States
6/20/2017
Great Product, Great Time
We purchased this software for a party we had for friends and family, it turned out way better than we could have hoped for. With the ability to push the pictures straight to a Facebook page everyone was able to see their picture, and we also copied them to a Cloud drive and used some digital displays to create a dynamic slideshow of the pictures as they were taken. People loved being able to see the pictures they just took on the big screens. It turned out to be a big hit.
---
Timothy B. from United States
6/18/2017
#Hashtag Printer is Awesome!
I love Hashtag printing option. It is going to allow this business to expand and grow. I Can't wait to use it at our first event next week
---
Leticia D. from United States
6/18/2017
Dslr booth
Totally enjoying this as a small business start up ! Definitely would recommend
---
Joseph B. from United States
6/15/2017
All around easy!
Plug and play. A few kinks to work out with initial set up. Would like a few extra features and iPad integration for touch screen button. When using remote (wired) shutter release the dslr shutter doesnt trigger the 5 second 1st pic delay. Well worth the $160 and it's easy to share photos via text/email/social media. Start to finish set up was roughly 3 hours with dnp rxhs1 printer and cannon t3i with a mac book pro.
---
Luca B. from Italy
6/14/2017
Great software
I bought the software online and in few minutes received the serial code.Easy to use.
---
Eugene C. from United Kingdom
6/13/2017
Dslrbooth professional
great software and very easy to use
---
Jens H. from Germany
6/11/2017
Great piece of software
I love it - use it in my photobooth and sell it to my customers. Easy to install and easy to configure and to use. Great piece of work!
---
Shawn P. from United States
6/11/2017
I love it!
The best photo booth/green screen software I have ever used! Thank you!
---
Daph F. from United States
6/9/2017
Simple and Fantastic
I've tried several software, but I always go back to DSLRBOOTH. This software is user friendly, delivers an amazing experience and stress free to run. Definitely recommend this software to all bothers!
---
Sw S. from Singapore
6/7/2017
fantastic support
fantastic support. solve all problem I asked. thks alot
---
Carla O. from United States
6/5/2017
Good product
I really recommend really easy!!
---
Angelique K. from Australia
5/31/2017
Best software!
Always developing new features and responding to users' feedback. I can't recommend it more highly
---
Patrick R. from United States
5/31/2017
Green Screen Party
Super Hero party and under the sea party coming up soon. Can't wait to see how it all comes out.
---
Cecil H. from Canada
5/31/2017
dslrBooth
so far the booth works fine. love it.
---
Alex B. from Switzerland
5/26/2017
Awesome Photobooth Software
This is exactly the Photobooth Software I have looked for. Very intuitive and all the functions I need. Only one thing: I am using a 3 button pedal for operation and it would be nice if the buttons on the screen (eg. when I select a background) could be removed.
---
Patrick U. from France
5/24/2017
Très bon logiciel
Je suis très content d'avoir fait l'acquisition de votre logiciel.Simple à utiliser, il répond a mes besoin de Photo Booth. Merci
---
Joann H. from Singapore
5/24/2017
Stable and Reliable
The software is quite stable and constant when use.
---
Timothy D. from United States
5/22/2017
Good App
Wish it would allow a remote monitor to be visible via my SLR video out.
---
Ben J. from Australia
5/19/2017
camera choice is everything
Great product, have used it a couple of times for non professional use. I have had issues with the software however, probably due to my camera. I use a nikon j1, listed as working but without live view.... However every update has rendered my camera unable to talk with the software. On one occasion tech help from dslrbooth said the camera was never supported, despite it being listed in their own information. Its a shame it is so buggy. The new versions look great, and have better features many that would be very useful to me, but im stuck using an old version for reliability. I dont want to invest in another camera (i already bought the nikon j1 specifically for the photo booth). I just hope other users with more expensive cameras are having more luck with compatibility.
---
Horst Boßler from Germany
5/19/2017
Einfache genial - simple - better - done -
Selten findet mal eine Software, bei der das Preis- Leistungsverhältnis so gut passt. Einfach gehalten und dennoch alles vorhanden. Hinzu kommt, dass dslrBooth ständig weiterentwickelt wird. Auch der Kontakt zu den Machern und die Antworten sind können sich sehen lassen! Immer ein offenes Ohr für Neuerungen aus der Anwenderwelt. Nur so kann eine Software noch besser werden. Macht einfach weiter so, bin ein großer Fan von dslrBooth. Besten Dank an die Macher aus Germany.
---
Curtis A. from United States
5/18/2017
So easy to use
This is our first attempt at a photo booth and we love DSLR booth so far. It is easy to understand and to customize - customer service people are super helpful if you run into a snag
---
John D. from United States
5/16/2017
Right out of the box
I love this software. I literally loaded it the morning of an event and was up and running that day. The whole workflow was smooth and fast. I highly recommend dslrBooth.
---
Al H. from United States
5/15/2017
Just what I needed!
From first Google search to download and set up, dslr Photo Booth was tremendous!!!
---
Luke F. from Australia
5/13/2017
Highly Recommended Photo Booth Software (#1)
I have been using dslrBooth on Mac with my Nikon D3300 and has done exactly what I have wanted it to do, I can have Guests take photos and it will upload directly to our Facebook page. The template editor is one of the easiest to use. The support of updates comes out very regurlary keeping everything running smooth. The software works very well on Mac OS Sierra 10.12 on a MacBook Pro Mid 2010. Extremely happy with this software, would Highly Recommend
---
Johannes S. from Germany
5/13/2017
Professional Software
Ideal solution for photobooth. It's very easy to use and the software offers a lot of possibilities to customize the prints etc.
---
William A. from Guatemala
5/12/2017
excelent
i've just started my own business, and this app has everything I needed to make it easy for me. I only whish you could change more than one color on the green screen page, tho
---
Bruno G. from United States
5/11/2017
love it
we ran a 120 person frat party at Princeton U and they beat our booth up your software did not miss a beat we made 200+ strips. | |Good Job!
---
Mike B. from United States
5/9/2017
Perfect Software
We have been using DSLRBOOTH for over 2 years and the software has never failed us. Thank you to the dev. group.
---
Paul G. from Germany
5/9/2017
Good software
dslrbooth fits great into my setup
---
Roger L. from United States
5/6/2017
Great product.
This is a great product and fun for people. I only use it for events for non profit events so wish it was less expensive for non commercial use.
---
Timothy J. from United States
5/6/2017
Great
This product is great. A very happy veteran Booth owner
---
Boey i. from Malaysia
5/5/2017
Very professional Software
Hopefully more improvement and usable video for Mirror Booth which is a trend now.
---
Liviu B. from Romania
5/4/2017
Very good photo booth software
Easy to use, intuitive, reliable!
---
Mauro M. from Brazil
4/28/2017
Recomendo
Perfeito para varios tipos de eventos
---
Evagoras M. from United Kingdom
4/28/2017
Just Excellent
My subscription to my current Booth Program ran out and didn't want to re subscribe with them (as it as terrible!) so chose dslrBooth. first tried the demo version and bought the full version within 24hrs. | |This program is so stable and very easy to set up with some amazing options and customisations. | |It takes a while to work your way round (like any new program) however once you know where everything is its a breeze. | |Try the demo and you'll see! | |The user interface is simple and anyone
---
Robert T. from United Kingdom
4/26/2017
DSLR Photo Booth Pro
Nice simple software with ample features. More features than I really wanted for a very simple set up I had in mind. I already run full size photo booths and wanted a kiosk for fast set up I can offer as less cost. This is ideal. I built my own kiosk similar to Joy Booth for around £80.00 ($90) and it looks amazing. I will offer optional green-screen as an extra and just take a 2m screen to venues. I will use a speedlight simply sat on top of the box linked by radio signal.
---
Marlene F. from United States
4/26/2017
Awesome!
I love it! It works great. Totally recommend.
---
Alessandro M. from Italy
4/24/2017
Buon Prodotto
Un buon prodotto ma si può ancora migliorare offrendo maggiori opzione nella programmazione background
---
Marcel b. from Netherlands
4/21/2017
Great software
Easy to use without any problems! I love it.
---
Jovan T. from Australia
4/21/2017
I love this software
The best part for me is when I do gig and everybody is smiling and keep on coming back, for more photos, it makes me happy.
---
Nicea C. from Romania
4/19/2017
good
if I can modify the count down, and signiture neon lighting direct on photo
---
Tijuana E. from United States
4/17/2017
Dslr booth window
I enjoyed using this software for a company function I hosted using my laptop. I wished I knew more about most features with a tutorial guide instead going thru the website support. It would be benefitical to read as well as how to use a dslr Nikon camera. Overall it's a good investment and possibly many upgrade to the professional version once I'm proficient with this software.
---
Likia T. from United States
4/16/2017
It's great!! All the features
It's great!! All the features are very easy to use and I haven't had anything to go wrong so far.
---
Farhan S. from Singapore
4/16/2017
Dslrbooth
Easy to use for photobooth user
---
Stewart G. from United Kingdom
4/11/2017
DSLR Booth Standard
What an excellent piece of software. I have had rave reviews from my clients and their guests since using this for my party corner. Simple to use, customisable and mega quick. less than 1 minute from photo to Print. think I may have to upgrade to see how awesome it really is
---
Jan h. from South Africa
4/10/2017
Great for Nikon users
With my Nikon d3200 this was the only software that worked.|I went trough all possible ones.|Working great with templets from PBO and others. Keep up the good work!
---
Ian D. from United Kingdom
4/10/2017
Easy to use couple of issues
Nice and easy to use. My real issue is you have to open a new text box for every line of text. It would also be nice to be able to alter the size of the text rather than changing the text box size.
---
Bellinger M. from Germany
4/7/2017
best software ever in photobooth
best software ever in photobooth
---
Jens R. from Germany
4/5/2017
Great! Einfach großartig!
Ich nutze die Software seit ca. 4 Wochen und der Einsatz auf zwei Hochzeiten und einem Event hat sich mehr als ausgezahlt. Intuitiv, einfach und tolle Leistung! Hier bekommt man gute Software für sein Geld!|Mit besten Grüßen|Jens Reitter|JR-Fotodesign.de|Nürnberg, Germany
---
Josa R. from Germany
4/4/2017
perfekt!
awesome product! |A lot of intersting features!
---
Jessica M. from United States
3/31/2017
PHOTO BOOTH
Amazing super fun to play with make my own templets everything I was looking for.
---
Jesus A. from United States
3/31/2017
Great
Thisbsoftware keeps getting better. Thanks
---
Ray L. from Philippines
3/29/2017
So easy to use!
Love the software. It's very easy to use! And highly cuatomizable layouts.
---
Miles C. from Canada
3/29/2017
Custom wedding cake topper
It's awesome software. Best selling it with custom wedding cake topper at www.custombobble.com
---
Marketa L. from Czechia
3/29/2017
Perfect tool
Perfect tool for photo kiosk,recommended!
---
Kenneth G. from United States
3/27/2017
DSLR Booth Softwared
I have used on a limted basis and so far so good.
---
Wade C. from United States
3/24/2017
The best photo booth software
This is great photo booth software. There are constant updates and great features and great support. The green screen is the best I have used yet and I have used them all.
---
Chris r. from United States
3/24/2017
Worth the buy.
I have had other photo booth software and by far this is the easiest one to work with. I
---
Scott W. from United States
3/22/2017
Great software
We just upgraded our software this is a great software and does everything we need we have used it for
---
Pavel P. from Czechia
3/19/2017
dslrBooth
dslrBooth is great software for my business. I am using this software in my photobot - www.selfiebot.cz. Thanks to all team programmers. Pavel
---
Marcel S. from Germany
3/19/2017
super Software
Only had the Chance to try it on one event. Without any problems. only the time from taking the photo until it is displayed is a little bit to long. anything else is just amazing :)
---
Dave F. from United States
3/17/2017
3 Year User
This program works like a champ! Use Dslrbooth with DNP printers and you will have clients rave about your services. | |They have tactfully designed to give the best experince before, during, and after a session. Need to design the print? easy. Need to have clients control? easy. Need re prints? easy. Need to give a digital copy to guests? easy!
---
Alfredo C. from United States
3/15/2017
Gets The Job Done
Great software for doing photo booths. I've used it for over a year now and I love it. However, I just recently switched from mac to pc and the windows version has more options and just works better over all. Something to think about.
---
Alfredo C. from United States
3/15/2017
I absolutely love the pro version
This software is perfect. So easy to use and it has so many options. I bought it for my mac over a year ago and I have no complaints. Just switched to pc and the windows version is even better. A few more options and the Live View modes work better on the window version. I currently using dslrbooth with surface pro 4 and my old nikon d90 back up camera. It all works like a charm. I couldn't be happy.
---
Charles B. from United States
3/15/2017
Second year, getting better all the time!
I just had an open photo booth for a couple hundred kids at a middle school party and dslrBooth for Mac, Professional Edition, was a smooth-running champ from beginning to end.
---
Mario M. from United States
3/14/2017
Great Software used it this
Great Software used it this weekend on a Sweet Sixteen it was awesome I wish I can talk to a live person
---
Marcus K. from Germany
3/10/2017
Das Update lohnt sich!
Wer zum Beispiel mit dem "canon selphy cp1200" Drucker druckt, kann nun in den Einstellungen von "dslrBooth" die Ränder präzise skalieren, damit die Ränder des gedruckten Fotos nicht zu doll oder unsymetrisch abgeschnitten werden oder gar noch weiße Streifen zu sehen sind.|Ich bin absolut zufrieden mit der Software! Einfach Top!
---
D. K. from United Kingdom
2/27/2017
Review 2017
Its brilliant !...|Have had a few glitches, but I think thats down to the camera I'm using...|highly recommended
---
James A. from United States
2/25/2017
I want this to be a 5-Star Rating; but,...
After turning many of the features off, I am happy that I can take photographs with my Canon EOS 6D for my template of choice and see the images on screen before printing them. There are two features I want for a 5-star Rating: 1) the ability to take unteathered pictures. I need to move about and shoot--more than I can with a USB cable from the camera to my laptop. 2) The ability to share what I have taken and will print with my client on an extended desktop, rather than the client seeing a mirror of my work. I am miffed that I saw no warning on buying a laptop with an AMD processor until after I purchased it and installed the software. So far I have not observed problems. I want more detail on this and have not found it. As I said, I want to give the highest rating. Will you address my concerns? Thanks! --James A Artis
---
Diamian W. from Singapore
2/19/2017
My customer like it
My customers are impressed with the easy to use function and setup.. Thank you and i fully recommend this product..
---
Connie B. from Singapore
2/14/2017
Standard Edition-dslrbooth review
I find it very user friendly software. It is easy to use and adjust based on my preferences. no need to actually search any help from prifessionals in youtube tutorial because this software is as easy as 1 2 3. Thank you.My photobooth run smoothly.
---
Octavia R. from United States
2/13/2017
Loveeeee this software
Super user friendly! Nice updates!!! Ready to use immediately!
---
Alexander F. from Austria
2/11/2017
Best developed Photobooth Software
This program (pro version) has everything I asked for and more. It runs quick even on an "Intel Atom" based tablet. 100% recommendation
---
George B. from United States
2/10/2017
professional edition
It's a great buy and very easy to operate.
---
Bob D. from Australia
2/10/2017
dslrbooth professional edition
Have been practicing with a couple of different programs and although they do the same job I have found dslrBooth much more user friendly and will probably change over my other machines to this program. Bob Foto Frog
---
Zaira A. from Canada
2/6/2017
So far so good.
Had our first Photo Booth session and it went great. No issue with the program. I've trialled other photo booth programs and dslrBooth is the most user friendly for me that's why I purchased the Pro Edition. Love the green screen and live view option.
---
Andrew B. from United States
2/6/2017
So Far So Good
Just bought this software to work on my Surface Pro 3 (i5, 4gb RAM, Windows 10) It works well. Every now and then a glitch will pop up where I can't click on something or the program hangs, but no catastrophic failures. Ill be testing it a lot more to see if its booth worthy, but right now its performing well. NOT PERFET, BUT WELL.
---
Tihomir Y. from Bulgaria
2/4/2017
Great Software!
I'm really happy to share with you my opinion regarding your product.|I'm really pleased so far and I'm finding it very easy to use with all necessary functions.
---
Jose L. from United States
2/2/2017
Quick and helpful
I had questions regarding the software and how it worked. |I sent an email had all my questions answered and my small problems fixed.\rThanks bro!
---
Ariel L. from United States
2/1/2017
excellent photo booth program
Easy to setup and i'm ready to rock my daughter's 18th birthday party.
---
Richard L. from United States
1/27/2017
Great App
Very easy to use app with great customization!
---
Linda L. from United States
1/19/2017
Great Program!!!
Just as the title says am very pleased! keep up the good work!!
---