March 3rd, 2022
dslrBooth for Windows v6.40 – 360 Video Booth, Slow Motion and Spinner Support
360 Video Booth/Spinner Support
Create a one of a kind video using dslrBooth's new features perfect for 360 booths and other short slow motion and video experiences.
New features include:
Slow down/Speed up and reverse multiple clips in same recorded video.
Capturing at a high frame-rate.
Adding an overlay, pre-roll and post-roll video, and a backing soundtrack.
Start boomerang session recording by moving the iPad or iPhone, useful for manual 360 spinners.
High FPS Capture.
Camera Stabilization for boomerang and video sessions.
Use iPad/iPhone Pro's ultra-wide cameras and set zoom.
Record with your High Speed Camera
Many Canon and Nikon cameras now support 60fps and 120fps framerates. 60-120 fps is highly recommended if you wish to use our new slow motion features.  You can now record using your Canon or Nikon camera's high framerate setting. We have prepared a list of Canon and Nikon mirrorless and DSLR cameras that support shooting in high framerate. The same support article also includes instructions for how-to setup your camera for high framerate capture.
Reverse and Slow down/Speed up video clips
Choose the overall length of the video using the Recording duration slider. You can choose to playback the recorded video either forwards only or forwards then in reverse. Choose to speed up or slow down the video. You can also break down the recording into multiple clips each with its own speed.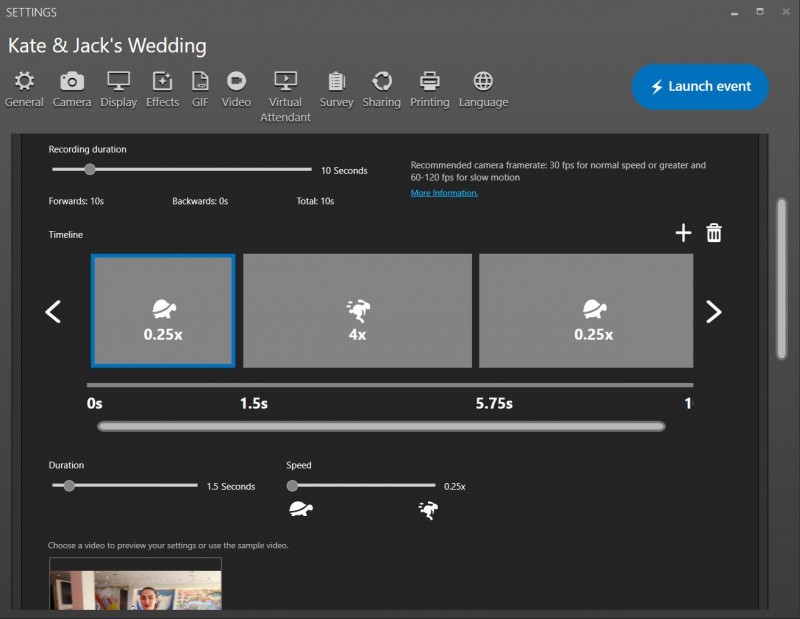 Click on the Preview button to see an example of how the different speeds will affect your video.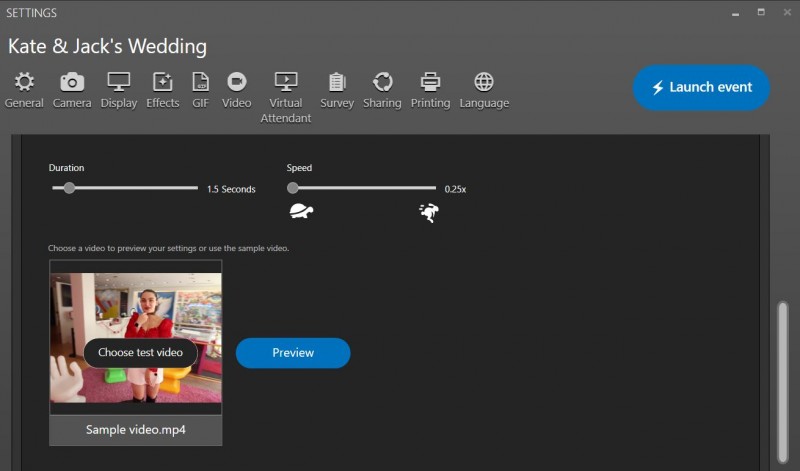 Soundtrack, Overlay, Pre-Roll & Post-Roll
Customize your video by adding a soundtrack, overlay and pre and post roll video to your video. Using asset manager select from mp3s, mp4s and png files.
Increased Video, Boomerang & GIF Quality
The generated videos for Video, Boomerang and GIF sessions are now in a much higher quality with a smaller file size so your videos can look their best and upload faster.
Glam Filter
We showcased our new glam filter in the Photo Booth Convention in Las Vegas and it was a huge hit. The highly requested glam filter has been added as a built-in filter. Settings > Effects > Configure. Choose Black/White Glam. Don't forget to also turn on beauty filter which does skin smoothing for the best results. 

LumaShare Sharing App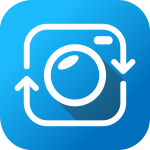 Connect dslrBooth to LumaShare to allow guests to share their videos and photos via iPad. LumaShare will fetch the photos and videos from either dslrBooth or fotoshare.co when connected to your local wifi network or the internet and display them on the iPad. Guests can share their sessions, including videos and photos from their session via Email, SMS, Airdrop, QR Code and more. Download from the Apple app store. A new slideshow feature is coming soon to LumaShare.
Checkout out LumaBooth, our sister app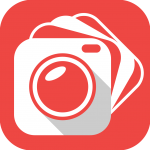 Did you know that we also have another booth app for the iPad and iPhone? LumaBooth has most of dslrBooth's great features and can be used for events where you would rather have a more portable setup using the built-in iPad cameras. LumaBooth also uploads to fotoShare Cloud, our hosting solution and works with the LumaShare sharing app.
Newly Supported Cameras
Canon R3
Canon M100
Canon M3
Canon M5
Nikon Z9
Nikon D780
Retake Session
Once a session is completed guests can choose to retake it by clicking Retake in the upper left corner of the sharing screen. Clicking Retake will delete the session and all its associated photos and videos from the event. You can choose to hide the retake button if you wish.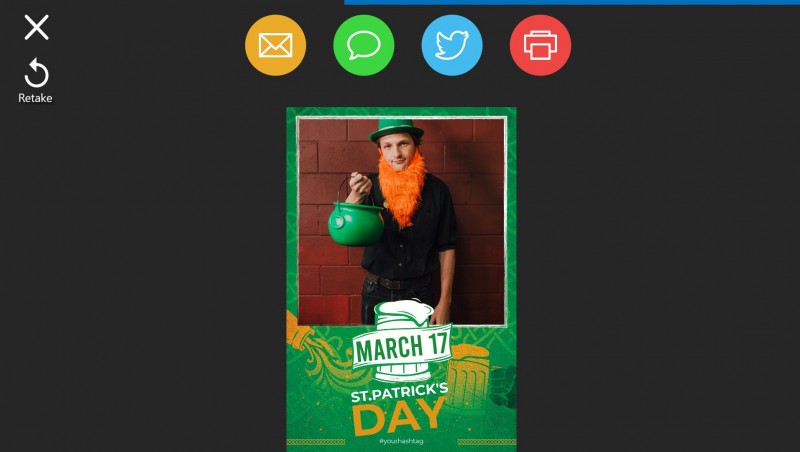 Turn On/Off Cloud Sync
Access your events from multiple devices with dslrBooth's sync feature. When creating an event, the event along with settings and any assets such as templates, backgrounds, and overlays will upload to the cloud when connected to the internet. Events can be synched across multiple machines while using the same fotoShare account, including accounts with multiple serial numbers.
Choose to turn off the booth synching feature. We do not recommend doing this as it will not backup your event settings and your settings will not sync to your other booths. However, this might be useful in rare circumstances. To pause synching, click the cloud icon at the top of the screen, click on the setting cog and click Pause. To resume, follow the same steps and click Resume.
Note: Clicking pause will only turn off synching for that booth, not all booths using the same license.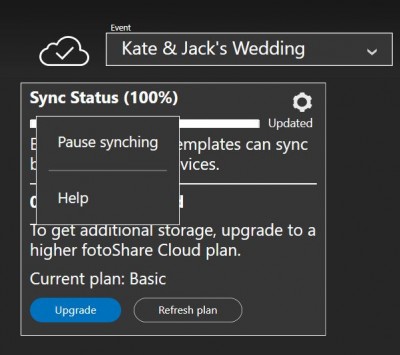 New API
We have released a brand new API to allow developers and advanced users to integrate custom apps and 3rd party software with dslrBooth. Using the new API, you can communicate and send commands to dslrBooth.
The API allows you to run the following commands:
Start a Print/GIF/Boomerang/Video session
Show/Exit the lock screen
Print a specific number of copies
Share an email/SMS with the final print or video
You can access this under Settings, General, API. API Documentation is available online at our support site.
Play Video Files in Slideshow
dslrBooth's built-in slideshow features now plays videos as well. Play a slideshow of all session types including photo, boomerang, GIF and video. As new sessions are added they will appear next in the slideshow then resume showing the other sessions.
Access the slideshow through fotoshare.co by opening on your event and clicking on Slideshow at the top right. To open from dslrBooth, click on Tools > View Slideshow.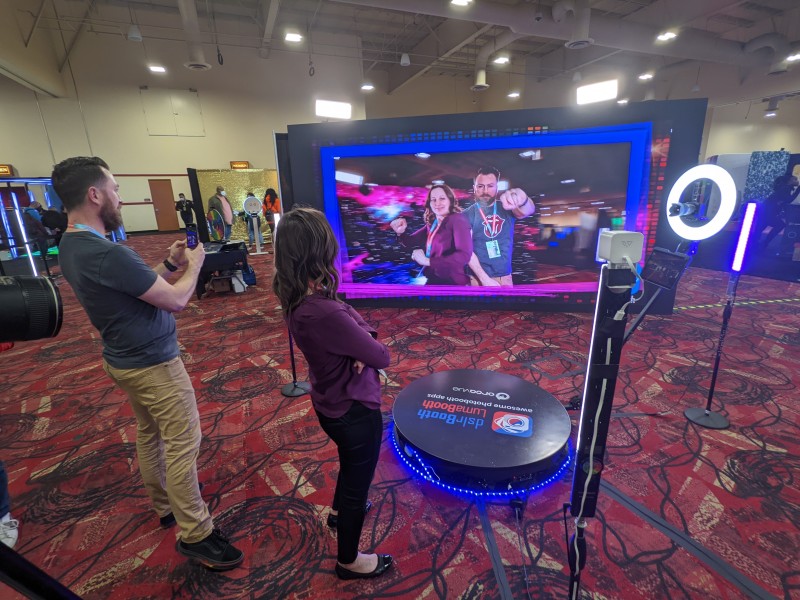 Bug Fixes & Tweaks
Sharing screen options can now be set to the top of screen perfect when using portrait orientation screens on mirror booths. Settings, Display, Sharing.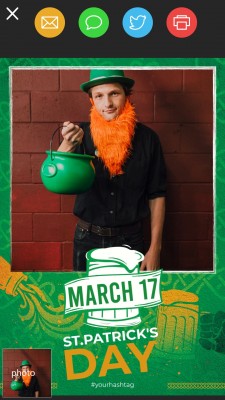 v6.40.0307
Fix for green screen not rotating through all backgrounds
Fix for keyboard appearing upon app start up
Fix for Print and GIF session not producing prints
Updated Video label to include 360
Template selection screen NEXT button can now be changed
Fix for video soundtrack not playing in LumaShare app
Fix for green screen backgrounds not showing correctly when using drag and drop
Fix for app crashing when using LumaShare


This update is available if your license or renewal has been purchased within the last twelve months. Click on Help > Check for Updates within dslrBooth. Download the free trial.