April 13th, 2022
dslrBooth for Windows v6.40.3 – Animated Video Overlays
Animated Video Overlays
Take your videos to the next level by adding animated overlays. Animated overlays add interest and excitement to your videos and result in a more polished look. Add multiple overlays to your video settings and have them rotate through with each new video session.
Select from our built-in overlays, purchase from our online store, or add your own. As an industry first, you can change the overlay's color and opacity directly in dslrBooth in near real-time.
Checkout our support site for more details.
Animated Video Overlays at Our Store
Since animated video overlays require experience in motion graphics, we have designed an additional 10 overlays in each of portrait, square, and landscape format. Check them out at our online store.

Multiple Image Overlays and Sound tracks
Under video settings, you can now choose multiple image overlays and sound tracks and dslrBooth will rotate through them so your sessions don't all look and sound identical.
Additional Video Resolutions
Choose between different resolutions including square format (720×720) under Video settings.

Done Button Reinstated
Due to feedback from our customers we have added the DONE button back to the sharing screen.
LumaShare for Sharing and Slideshow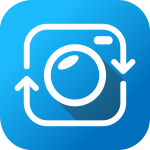 Connect our LumaShare iOS app to dslrBooth to allow guests to share their videos and photos via iPad. LumaShare will fetch the photos and videos from either dslrBooth or fotoshare.co when connected to your local wifi network or the internet and display them on the iPad. Guests can share their sessions, including videos and photos from their session via Email, SMS, Airdrop, QR Code and more.
LumaShare also supports playing a slideshow of all your videos and photos to Roku, Apple TV, and over HDMI.
Download from the Apple app store.
Bug Fixes & Tweaks
Fix for some photos not passing JPEG verification from some Sony cameras.
Fix for webcam videos playing black frames in the beginning when green screen is on.
Fix for sound cutting out at the end of the video when recordings are very long.
v6.40.3.0428
Fix for synchronization issue with large number of booths.
Fix for 360 video processing failing
v6.40.3.0503
Fix for video timelines not generating correctly
v6.40.0525.1
Fix for prints not cut when printing multiple copies from LumaShare companion app.
Fix for boomerang sessions freezing app with some Canon mirrorless cameras.
Fix rare issue for broken thumbnails of some video sessions.