April 12th, 2021
dslrBooth for Windows v6.38 – Synchronize Events Across Booths
Synchronize Events Across Booths
Access your events from multiple devices with dslrBooth's sync feature. When creating an event, the event along with settings and any assets such as templates, backgrounds, and overlays will upload to the cloud when connected to the internet. Events can be synched across multiple machines while using the same fotoShare account, including accounts with multiple serial numbers.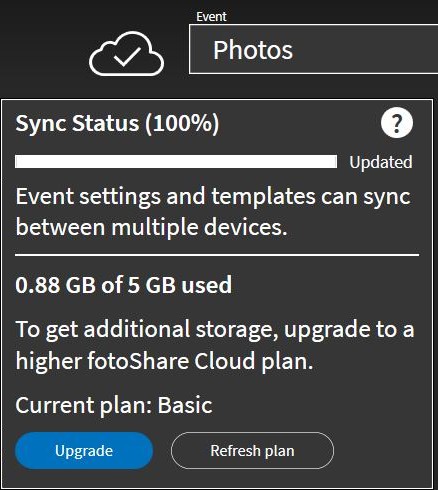 Including event settings, the following will be synched:
Templates

Green screen backgrounds and overlays

GIF overlays

Virtual attendant mp3s/mp4s

Start screen images

Say cheese images

Effects

Video Overlays

Digital Props

Watermarks
When upgrading to version 38 of dslrBooth it can take a few minutes for the syncing to occur. This will only happen when first updating to version 38.
Note: It is very important that you do not change files in AppData\Roaming\dslrBooth folders. Doing so will have severe consequences to the way the application works.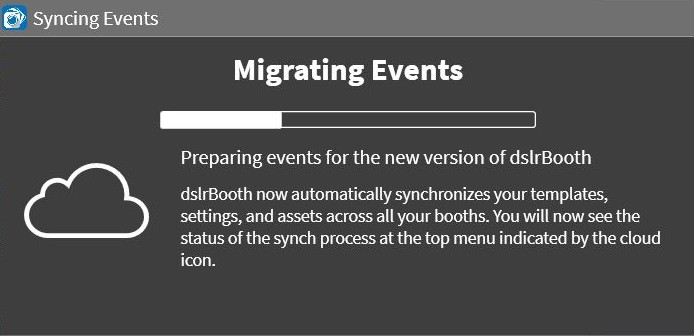 Asset Manager
The asset manager will show you any assets that you have uploaded, allowing you to choose from previous uploaded assets or upload new assets. Assets are the different files you upload from your device, including:
JPG/PNG files for green screen backgrounds and overlays, GIF/Boomerang overlays, start screen and say cheese images, digital props and watermarks
MP3/MP4 files for virtual attendant animations and audio files, video pre and post roll and video soundtrack
LUTs/cube files for filters
Assets will stay in the asset manager unless deleted and are global across events across all devices, allowing the user to access assets from other devices that were previously uploaded.
Sort by Date and Name
Sort your events by either date or name. Use the find your event feature to find a specific event.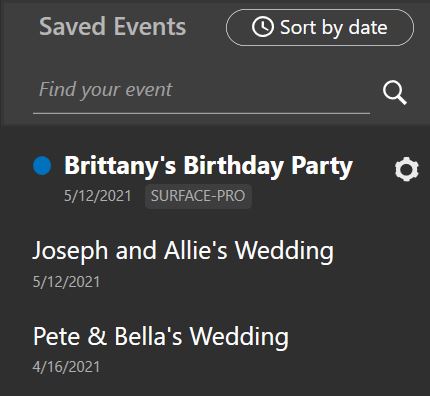 Rename and Delete Events
Updated UI to easily delete and rename events.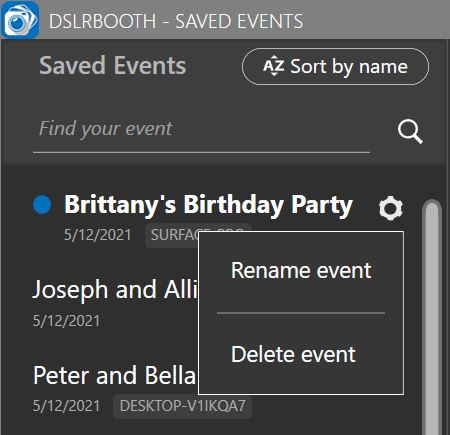 Bug Fixes and Tweaks:
Fix for Green Screen, Beauty filter error message appearing for some users.
Fix for Browse button missing when Select a Template is turned on.
Fix for start screen virtual attendant video not playing after first session.
Fix for incorrect print count when using Guest QR Code.
Fix for Next button shown as covered when using smaller screen resolution sizes.
v6.38.0423
Fix issue with French translation showing English words.
Fix template import issue where old templates would not import into the software.
v6.38.0428
Fix for Save As New in template editor not creating a copy of the template.
Fix for Template Name not being able to be changed in template editor.
Fix for missing image error when exiting template editor.
v6.38.0511
Update to saved events UI including computer name and date event was last updated.
Fix for browse screen showing wrong event name.
v6.38.0609
Settings which are related to local hardware will no longer synchronize with other computers (printer, camera, virtual keyboard, real-time export directory, camera).
Updated UI to show local settings that will not be synched with other computers.
Fix for boomerang issue causing other sessions to not start with some older Canon cameras.
v6.38.0618
Fix for green screen live view showing small when using in vertical orientation.
Fix for crashing when pressing CTRL + 1 for printing.
v6.38.0622
Fix for some green screen backgrounds showing very small on selection screen.
6.38.0628.1
Speed up template selection on start screen.
Fix countdown trigger sending wrong percentage value.
Fix wrong template thumbnails width and height that was causing portrait templates to take the entire view height.
6.38.0630
Fix synchronization icon always showing syncing even when syncing was finished
Fix for cloud sync issue when computer is not using English as Windows language
Fix for settings taking a long time to open when a comma (,) is used as a decimal separator
6.38.0702
Fix for digital props screen switching between one and two columns when in vertical orientation
6.38.0712
Fix for GIF overlay not appearing when using webcams
Fix for Booth Mode buttons not centered on start screen
Added option to change Next button for green screen background selection screen
6.38.0720
Fix for software freezing at processing stage
Fix for boomerangs appearing as squares and having dotted line when using green screen and Surface Pro camera
Fix for app freezing when using LUTs filters
6.38.0802
Fix for boomerang, GIF and video being cut off when recording vertically