July 24th, 2018
dslrBooth for Windows: v5.24 Update – Digital Props
Digital Props
Let your guests add digital props to their individual photos. Use the built-in props in dslrBooth or upload your own props. Settings > Effects > Digital Props.
Save Settings Per Event
You can now pre-configure each of your events in dslrBooth with different settings. This will make it easy to run multiple events on a busy weekend or to have different presets for your booths that you can switch to quickly. You can do this from the Event dropdown in the main menu. When creating a new event, you can copy its settings from an existing event as well.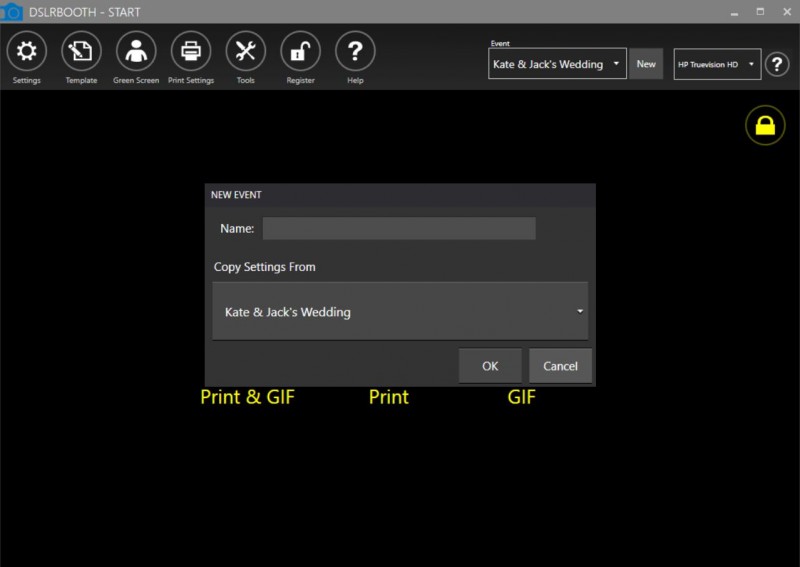 Re-sort Template Dropdown
Sort template dropdown by date modified or alphabetically.
Hide Retake/Cancel Button
You have the option to hide the retake/cancel button. This is useful if you accept payment for your booths using a coin or credit card acceptor or if you simply don't want guests to have the option to retake photos. Settings > Display > Capture Screen.
Sending SMS to Other Countries
You can now send SMS messages to countries different than your Twilio From number. This is useful if you want to send from a different country than where your guests are located and is useful for countries that don't have SMS sending numbers yet. Add the country code for your country in Settings > Sharing > SMS. The Country Code will get prepended to your guests number in the background so they don't have to enter it in.
Mirror Booth Display Improvements
The Start Screen icons and Done button will automatically be raised to the upper third of the screen when using vertical screens such as those used for mirror booths. Also, when using multiple templates with a vertical screen, the capture button is moved to the right side.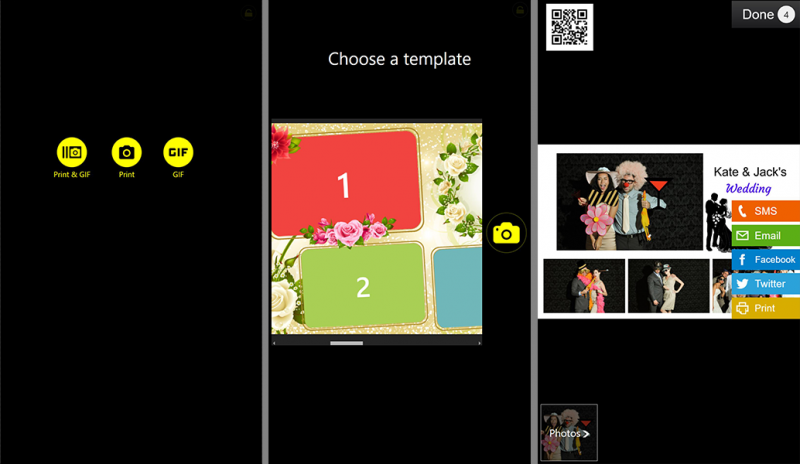 Remove Facebook Upload to Profile Page
The ability to automatically upload to a Facebook Profile Page has been removed due to changes in Facebook's privacy policies. However, you can continue to share to a Facebook Page as before.
FotoShare Cloud Updates
Allow guests to download an entire album at once
Upload other photos to your fotoShare albums. Useful for uploading individual photos. Requires a paid plan.
New option to delete shares.
Option to delete an entire album.
Bug Fixes:
Fix for start screen animation not playing when only one booth mode option is selected.
Fix for generating GIFs 32 bit systems.
Delete RAW images when user rejects disclaimer.
v5.24.0802 
Fix for Crop Live View not showing in display settings.
v5.24.0803
Fix for single photos not appearing on sharing screen if filename already existed.
v5.24.0806
Fix browse button does not appearing on start screen for GIF only sessions.
Hide signature feature for GIF only sessions.
Fix rare template processing issue.
Remove sharing to Facebook by Guests on the Sharing Screen as Facebook no longer allows apps such as dslrBooth from posting photos.
Remove sharing to VK.com.
v5.24.0807
Guard against corrupt settings file causing application not to start.
v5.24.0808
Fix for some compression settings not working for Nikon D7100, D7500.
Fix for template editor failing to delete templates.
v5.24.0816
Fix for last opened event sometimes not opening after app is restarted.
v5.24.0821
Fix for settings getting corrupted on some machines when computer is shut-down unexpectedly.
v5.24.0822
Fix for settings not getting saved for new installs and updates from much older versions.
v5.24.0905
Fix for registration issues with some new installs.
---
This is a FREE update if you have purchased dslrBooth within the last year or have purchased a renewal license. To update your software, open dslrBooth, then go to Help, Check for Updates.