November 14th, 2017
dslrBooth for Windows v5.21 Update
Updated Green Screen Setting UI
Green Screen settings now has a new UI that makes it easier to setup both when you use flash and when you don't.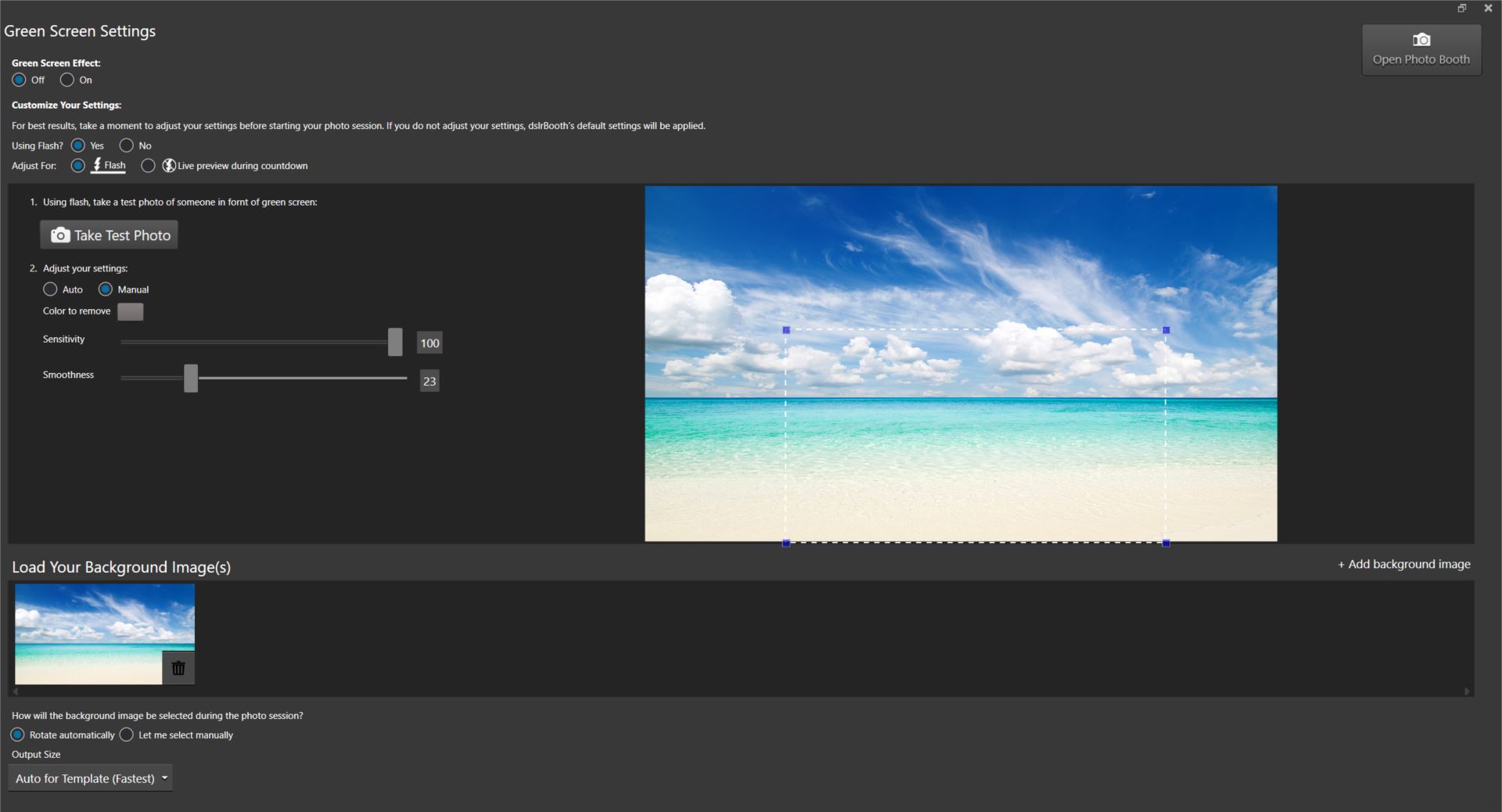 Animated Overlays for GIFs/Boomerang
You can now add more overlays to your GIFs or boomerang videos than you have frames to create an animation on top of your photos/video. Settings > GIF> Overlays. As before, overlays should be a series of PNG transparent files.
New Supported Cameras
Nikon D5600
Canon EOS Kiss X9i/EOS Rebel T7i / EOS 800D
Canon EOS 9000D / EOS 77D
EOS 6D Mark II
Canon EOS 200D / EOS Rebel SL2 / Kiss X9
Change Foreground Color
Change the color of all buttons on the start screen including the Retake Button, Green Screen Start button and Full Screen button.
Email and SMS Send Icon
Instead of a checkmark, guests will now see the traditional send icon when sharing via SMS or Email.

Email/SMS Queued
Option to change the text when Email or SMS is queued has been added. Settings > Display > Text.
PhotoShop Post Processing Time
Photoshop post processing time has been extended from 7 seconds to 30 seconds. This will allow for droplets with a large amount of layers to be processed and apply the effect to photos from dslrBooth.
Other Features
Refresh countdown progress circle more frequently for a smoother countdown.
Trigger camera 1 second earlier so capture is not delayed due to camera mirror flipping.
Add a video or audio prompt  that will appear before the guest leaves their signature.
Green screen now works with boomerang GIFs.
Boomerang speed ranges from 50ms to 500ms.
Choose a template will no longer appear when using Boomerang only.
Disable spacebar when Done button is hidden.
Bug Fixes
Single photos will print without printing the template.
GIFs will no longer skip overlays or images.
Virtual Keyboard opens with Windows 10 devices with latest windows update.
Retake button no longer causes delay/lagging.
Correct shutter speed is set at the end of live view.
v5.21.1128
Use non-flash green screen settings when flash is not selected under Green Screen settings.
Fix rare issue with GIF overlays not working on specific graphics cards.
Move lock/unlock button to be above start screen virtual attendant video.
v5.21.1206
Fix for retake button not working correctly with 1 photo templates.
v5.21.1212
Fix for shutter speed not properly set at the end of live view on some European Canon camera models.
v5.21.1213
Fix for Green Screen background issue. When uploading green screen backgrounds, the test photo or live view will now appear.
v5.21.1303
Cancel current session when entering camera settings, template editor, green screen window, and camera wizard to avoid conflict caused both at the same time.
v5.21.1322
Fix for GIF overlay issues with some graphic cards.
Prevent GIF sessions with 1 photo.
Fix for e-mail not sending when sharing boomerang over 10MB.