April 6th, 2017
dslrBooth for Windows v5.14 New Features
Export Events
Export an entire event, including prints, originals, GIFs, and videos, to a specified folder on your computer. Allows for easy sharing to clients.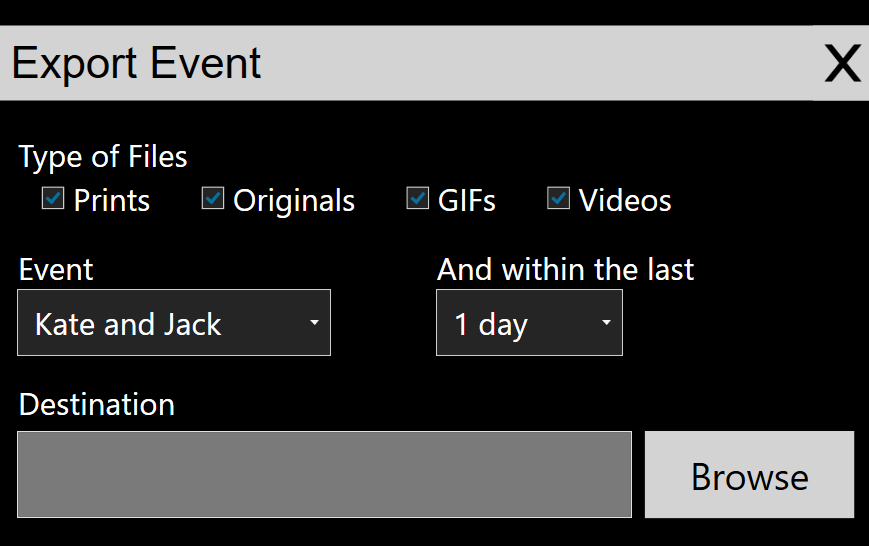 ---
Real-time Export
Export a second copy in real-time of either prints, originals, GIFs, videos or all four. This allows you to insert a flash drive at the beginning of an event, then take it out at the event of the event with all files on it. You can also use this to export to cloud sharing services such as Dropbox and Google Drive. Settings, General, Real-time export.
---
Directory Per Album
Each event will now have its own separate folder that includes the prints, originals, animations and videos folders.
---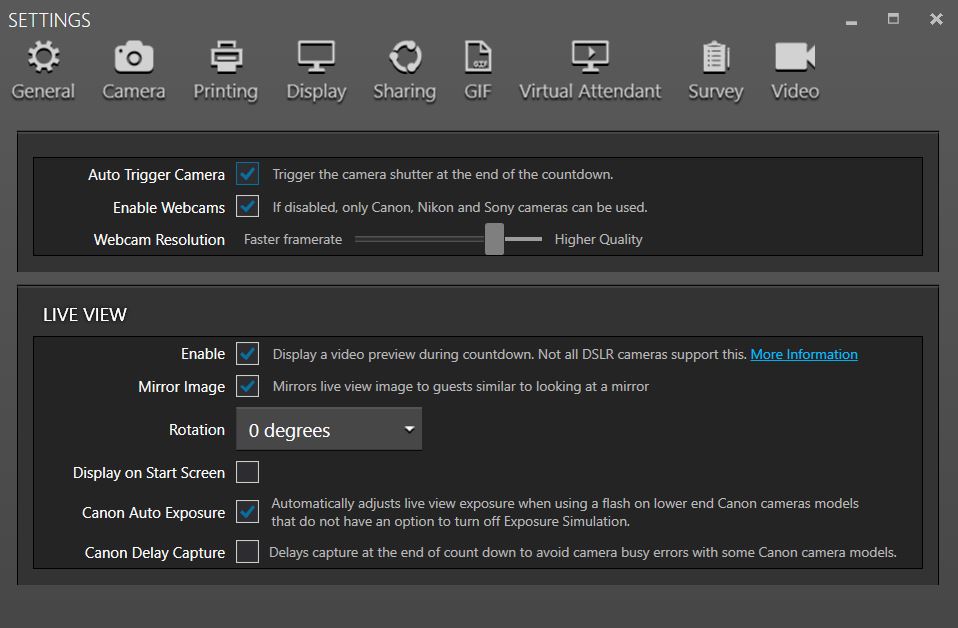 Settings Screen Redesign
The new settings screen now has the same appearance as the template editor. Tools and features are still listed under the same tabs.
---
Bill and Coin Acceptor
For permanent installations, have customers pay for the photo booth using a bill or coin acceptor. In dslrBooth you can start a session once the correct amount of money is placed in the acceptor. See our support site for recommended hardware.
---
Facebook Approval Location
The prompt for guests to approve uploads to Facebook business pages is now located at the bottom instead of in the middle of the screen so guests can see the print before approving.
---
Location of Sharing Icons
Choose between displaying the share options on the right side of the share screen or on the bottom. Displaying on bottom works well with vertical and mirror booth set ups.

---
Select An Effect
Select an effect title appears at the top of the screen to prompt guests to choose an effect.
---
This is a FREE update if you have purchased dslrBooth within the last year or have purchased a renewal license. To update your software, open dslrBooth, then go to Help, Check for Updates. You can renew your license from within the software as well.