May 3rd, 2018
dslrBooth for Windows: 5.23 Update
Cropped Live View to Match Template Photos
Live view will now show in the shape of the photo placeholder from the template, allowing guests to position themselves within the placeholder limits. Turn on/off under Settings, Display, Capture Screen, Crop Liveview.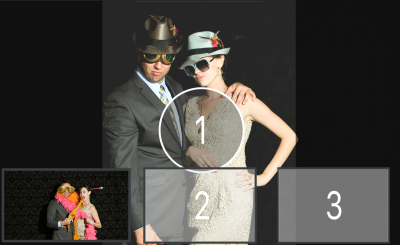 Detailed Sharing Information
When viewing stats in Settings > General, you can now get detailed information per share.

New Supported Cameras
Canon EOS M50 / EOS Kiss M
Canon EOS T7 / 2000D
Canon EOS T100 / 4000D
Canon EOS SL2 / 200D
Bug Fixes
Fix for browse button not appearing when using Survey and Video function
Fix for large GIF file being stretched
Templates are center aligned on start screen
v5.23.0504
Added new setting to turn live view cropping on and off (Settings, Display, Capture Screen).
Fix for upload issue when doing print + gif sessions.
Speed up live view startup during countdown for photos 2, 3, 4.
Improve resolution of photo on print file when photo placeholder is not same exact aspect ratio as photo image file.
Improved Twilio SMS configuration.
v5.23.0511
Fix for last image staying on screen during next countdown if live view is off.
v5.23.0606.1
Speed up final print processing time.
Fix of issues with GIF and Boomerang overlays tearing on specific graphics cards.
v5.23.0619.1
Fix keyboard issues on Windows 10 version 1803.