May 1st, 2018
dslrBooth for Mac v.3.1
Booth Mode
Choose between Print & Gif, Print Only, Boomerang and GIF. Settings > General > Booth Mode. Options chosen will appear on screen for guests to choose from.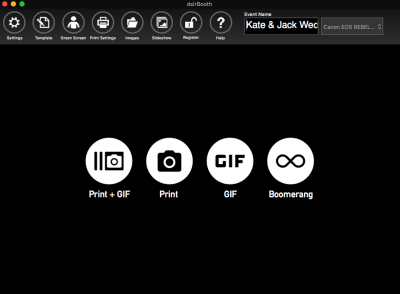 Boomerang
Capture a one second video that gets slowed down then plays forwards then backwards to generate a boomerang GIF. (Settings, GIF, Boomerang)

 Change Foreground Colors
Change the color of all buttons on the start screen including the Retake Button, Green Screen Start button and Full Screen button.
Vertical Template on Start Screen
Vertical templates now appear correctly instead of stretched.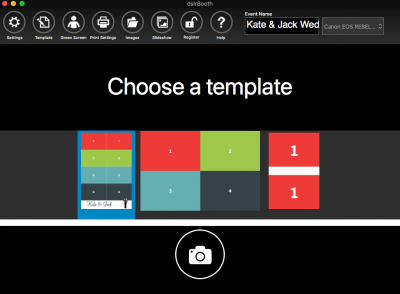 GIFs Show in Browse Window
GIFs will appear in the browse window in the upper left part of the start screen.
Template Saves on Close
Templates will save automatically when template editor is closed.
New Supported Cameras
Canon EOS M50 / EOS Kiss M
Canon EOS T7 / 2000D
Canon EOS T100 / 4000D
Canon EOS 6D Mark II
Canon EOS SL2 / 200D
Canon EOS EOS 77D
Canon EOS T7i / 800D
Bug Fixes
Emails sent to web.de and gmx.de will now be delivered.
Fix for template editor cutting off top 20px of template.
Fix for stretched mp4 files.
Fix for issues when entering html in email body.
v3.1.2
Fix for wrong image uploaded to fotoShare cloud when running Print + GIF sessions.
This is a FREE update if you have purchased dslrBooth within the last year or have purchased a renewal license. To update your software, open dslrBooth, then go to Help, Check for Updates.