October 26th, 2021
Lumabooth v3.3 – 2×6 Print Design, Print Alignment, and Easier Retake
2×6 Print Design
If you're printing to 2×6 paper, you can now design your strip as a 2×6 and LumaBooth will create a 4×6 print for printing on a 4×6 printer which cuts the strip Set your template to 2×6 and make sure to check the option for print 2 copies per page. This allows users to send a single digital copy while printing two 2×6 strips on a single 4×6 page.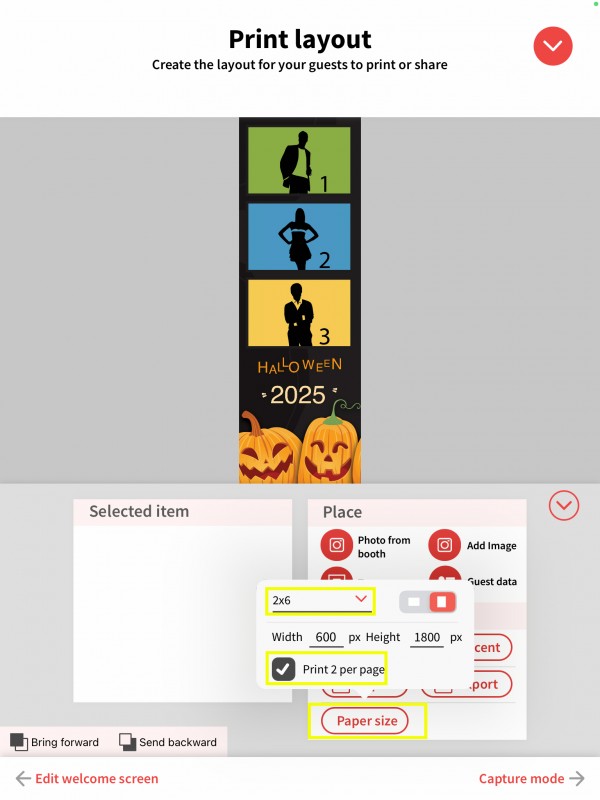 Scale/Alignment of Prints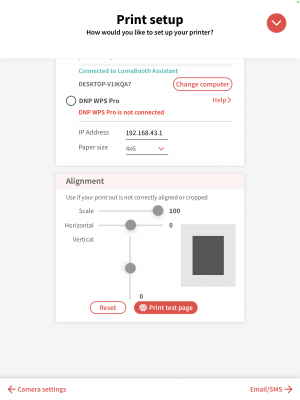 Sometimes when printing, the printer is not perfectly aligned and can leave your print not centered and not filling the entire paper. Start by going to Settings > Print Setup, tapping Reset to go back to the default settings, then Print test page. The test page will show you whether the print out is misaligned and will provide instructions on what to do to fix the alignment. Based on that, you can adjust your print alignment by using the sliders to adjust Scale, Horizontal and Vertical positions.
You will need to update to the newest version of LumaBooth Assistant to be able to use this feature.
Retake Session
Allow guests to retake their session while on the sharing screen. Retaking the session will delete the current session's photos, videos, and final strip.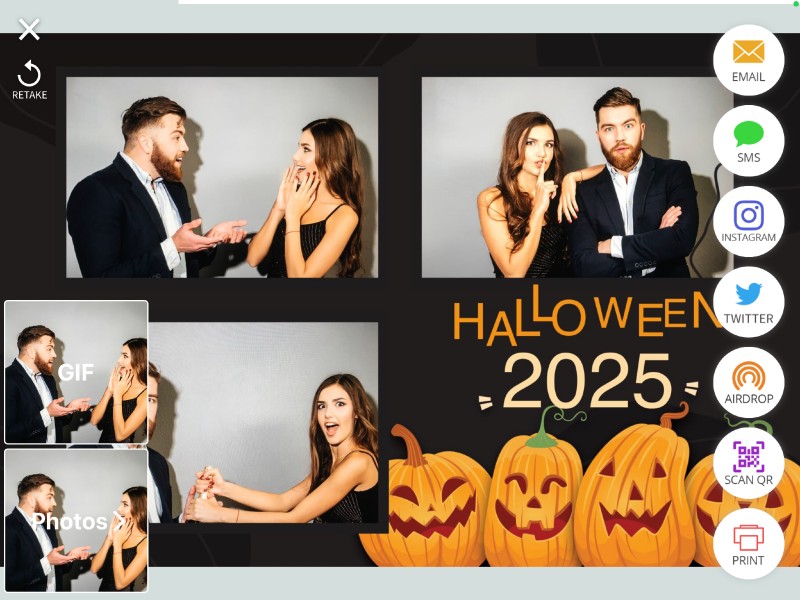 Option to disable fotoShare Cloud Uploading
In some scenarios for privacy reasons, you might not want to upload any of your event photos/videos online. In this case, you can completely turn off fotoShare Cloud uploading. If fotoShare Cloud is turned off, SMS and QR code functions will also be turned off as well as they can no longer be used since they depend on uploading to fotoShare Cloud. This can be done under Settings, Sharing.
Visual Progress of Sharing Status
The Sharing Status screen now provides more information on pending and sent shares. A notice will appear if there is no internet connection, shares that are currently pending and up to date if all shares have gone through.
Add Files Using Files Dialog
When adding overlays, videos, green screen backgrounds, and other files to your event (PNGs, MP4s, MP3s, etc) you will be prompted to add them using the Files dialog box allowing you to choose from iCloud, On This iPad, Google Drive, Dropbox and Downloads instead of just the iPad photos gallery. This makes is much easier to add any assets to your event. This is a much more streamlined method of adding these files to LumaBooth as you no longer need to send them to yourself, then open them, then save them to the photo roll, then open them the LumaBooth. With this new method, you upload the files from your computer to iCloud, Google Drive, or AirDrop then choose them directly from within LumaBooth. This also organizes your files as you can have different folders for each of templates, gif overlays, start screens, etc… More Information.
Manual Photo and Video Controls
You can now setup photo camera settings separate from video camera settings. Photo camera settings can be automatic or manual. In photo manual settings, you can set the Shutter speed and ISO. In video settings, you can set exposure compensation.
Bug Fixes & Tweaks
Fix for exposure not adjusting properly after a boomerang session where the background is very bright.
Fix for Bluetooth remote not starting session with iOS 15.
Fix for From email not showing the correct address set under settings when sending a test email.
Enter Email window is moved upwards so keyboard does not cover send button.
Fix for issue where primary and secondary colors are set to the same color which results in the send email/sms buttons getting hidden. These colors should be chosen to be different.
Fix for issue where user could create an account with a space in the email. address, causing user to not be able to log into fotoshare.co.
v3.3.2
Fix for adding files not working on iOS 11.
Stability improvements when app is starting up then goes to background.
v3.3.3
Add manual camera settings for PHOTO/GIF sessions separate from VIDEO/BOOMERANG sessions.
Fix for rare issue where session could not start due to other app using camera/microphone.
v3.3.4
Fix for crash on capture when PHOTO/GIF Camera Settings > Manual Exposure is unchecked.
v3.3.5
Fix for issue in synchronizing some overlays and before/after recording files.
Clear overlays and before/after video files when creating a new event.
Clear thumbnails when creating a new event.
Other minor stability and bug fixes.