March 5th, 2020
LumaBooth v.2.9 – Stickers
Stickers
Allow your guests to add stickers to their final print. Use the built-in stickers or upload your own. Settings > Stickers
Larger Sharing Icons
The sharing icons have been increased in size to allow for easier viewing. The countdown is now shown as a line at the top that will decrease as time counts down.
Split Survey Responses by Event
View survey responses by event or choose all to view responses from all events.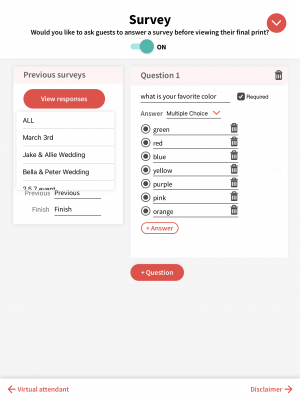 New Templates
Our online store has two new Saint Patrick's Day templates as well as 22 new templates for weddings, birthdays and formal events in both vertical and horizontal orientations.

Bug Fixes and Tweaks
This update also:
Creates smoother boomerangs.
Fixes boomerangs appearing mirrored on sharing screen.
Adds scroll bar to multiple choice survey answers.
Fixes print dialog re-opening for certified AirPrint printers. Issue with dialog opening for non-certified printers such as Airkonv will be fixed by iOS 13.4.
Fixes virtual attendant custom selections getting erased when changing the virtual attendant style.
v2.9.1
Fix for stickers settings opening when locking from the start screen and other minor bug fixes.
v2.9.2
Speeds up boomerang processing speed.
Fixes print image not saving to image roll with stickers.
Fixes individual vertical photos uploaded to fotoshare.co sideways.
---
To update, open the app store on your iPad, search for LumaBooth, and download the latest update.