January 7th, 2020
LumaBooth v.2.8 – UI Improvements
Sharing Status Improvements
You can now export shares outside of the app including phone numbers, emails that shares were sent to.
The sharing status details now takes up the full width of the screen to show more information.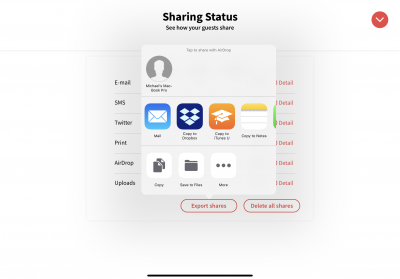 Share Single Photos Using LumaShare
When using LumaShare, you can now share the individual photos as well.
Overlay Size Warning
When choosing an overlay, if it is an incorrect size, a warning will appear with correct size of the overlay.
Printing Notification
There is now a new customizable printing notification after guest chooses to print. The word printing can be modified under Settings, Printing.
Multiple Licenses
If you are running more than two booths using LumaBooth, you now have the option to purchase additional licenses at fotoShare Cloud.
 Bug Fixes and Tweaks
This update also:
Fixes blurry thumbnails on the LumaShare app.
Fixes boomerang crashing for specific iPad models.
Fixes videos recording without audio on specific iPad models.
Fixes rare sharing issue where shares were not sent if there was an issue with a previous share.
Automatically reconnects to previously configured DNP printer when the app starts.
Properly resets white balance when using manual camera settings.
With iOS 13, Apple modified the AirDrop function. Please see our support article how-to optimize AirDrop sharing.