August 16th, 2023
dslrBooth 7, Customizable Screens, Updated UI, and new subscription system
Customize Guest Screens
A much anticipated feature, users can now completely customize their guest facing screens with the new screen editors.
Change the color, size and location of your booth mode buttons for the start screen. To further customize buttons, you can now upload a JPG or PNG file to replace the standard circular button.
Upload your own background image or change the color of the background.
Adjust the location, size and look of sharing buttons on the sharing screen.
Settings for your screens are saved at the event level so each event can have its own customized design.
Screen Settings – Settings tab
Screen settings for the welcome, capture, and sharing screens can now easily be found under the respective tab in the screen editor. You'll see a live preview of the screens as you make changes to visual settings.
Design Tab
Clicking on any element in the screen editor will automatically switch the tab on the right to DESIGN. The element will show in the layers panel where you can drag to reorder elements. The "Send Backward" and "Bring Forward" options have been moved to the bottom left of the screen.
New Settings Screens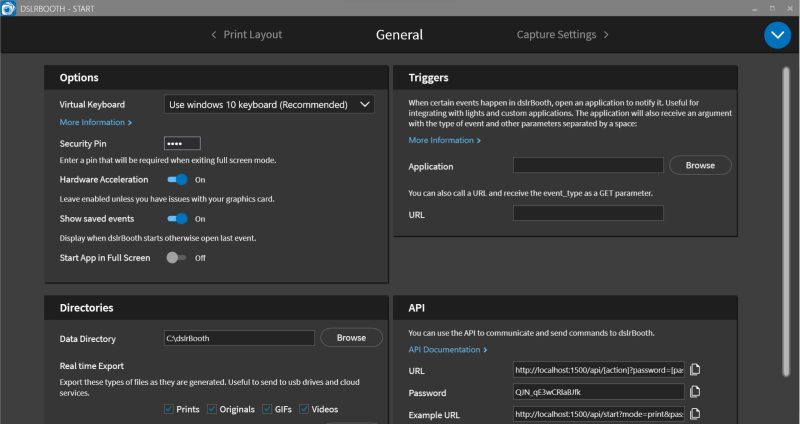 We have redesigned all settings screen to be more modern, visually appealing, and organized. Settings now take up the entire screen for easier navigation. A new navigation bar appears at the top of each settings page, allowing users to move between settings easily to streamline events.
Camera and Capture Settings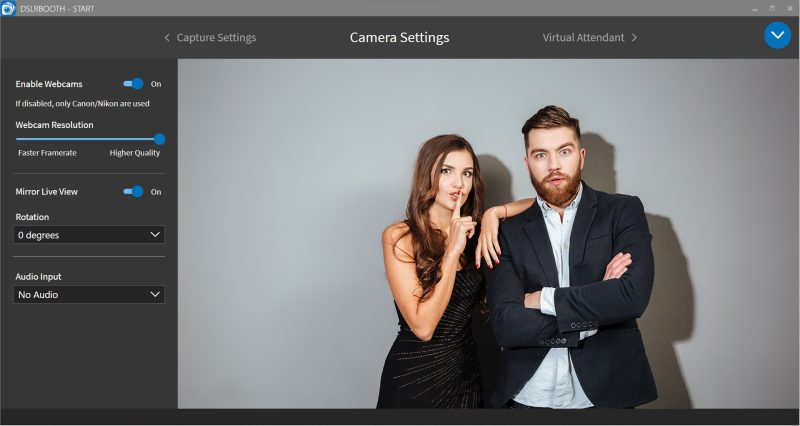 Capture settings and camera settings have been merged, simplifying the configuration process for users.
Dedicated webcam settings have been added, allowing users to adjust webcam camera settings in one location. Change rotation and mirror image for live view have been moved to camera settings.
New Camera Support
We have added support for the following cameras:
Canon EOS R7, R8, R10, R50.
Canon EOS R6 Mark II.
Nikon Z30, Z780.
Nikon Z9 (works in either photo OR video mode because of camera switch).
New Subscription System
We are introducing new annual and monthly subscription options for dslrBooth Photo Booth Software. While dslrBooth has always required a renewal license every year, our system of managing licenses and renewals needed much improvement. You can now access, update, and manage all your dslrBooth applications and services from a central dashboard, simplifying software management. You can access this dashboard under fotoShare.co > Subscriptions > dslrBooth.
For customers whose license has not expired: You'll automatically receive a FREE year of updates through our new subscription system by going through the new checkout process.
For customers whose license has expired: You'll automatically receive a 50% discount on a annual subscription to dslrBooth of any quantity.
At this time, dslrBooth v6 and older will not automatically show the dslrBooth 7 update. Existing and new customers can download dslrBooth 7 from dslrBooth.com/download
Learn more about dslrBooth 7 subscriptions
Buy for others
With this new subscription system, we have made it very easy for you to buy a license (voucher) for anyone else. This is mainly for resellers and those who want to gift dslrBooth or LumaBooth. You can do this under fotoShare.co > Subscriptions > Buy for others. You and your recipient will receive an email with instructions of how-to redeem the voucher and you can track all your voucher codes and the redemption details as well.
Other fixes & tweaks
Add QR code directly on the sharing screen without having to press a button for QR first.
Improve user interface on Surface Pros.
Improve main menu user interface.
Performance improvements when using the latest processors with efficient cores.
Fix for space bar not starting session when entering full screen.
Fix for filters causing single images to not generate.
v7.43.614.1
Fix for demo users not allowed to test out the software.
Fix for users with uppercase email address not being able to login.
ESCAPE button will now cancel video sessions.
Show pop-up when trying to start a session with no cameras connected.
Fix for template editor preview thumbnails not updating.
Add sign out to subscription pop-up.
v7.43.615.1
Fix for screen editor screens not synchronizing to other booths.
Add option to multi-select elements in screen editor using to later move or use alignment buttons. To mutli-select, select first item, press and hold SHIFT, press the second item.
Fix for Booth Copilot logging in issue on mobile phones.
Show Keep Aspect ratio checkbox in screen and print layout editors.
v7.43.620.1
Allow changing of email address when starting dslrBooth 7 for the first time.
Fix for gray bar appearing when dslrBooth is started with a license that does not match the user's fotoShare Cloud account.
Display browse and lock buttons above start screen video when used with one booth mode.
Fix not being able to enter S or spacebar while in language settings.
Fix effects selection not showing the correct saved setting.
Fix for populating virtual attendant settings after choosing the built-in Virtual Attendant style.
Fix for multiple clips option not showing for Video capture settings.
Remove individual sharing icons from sent emails and replace with one share icon.
v7.43.622.1
Fix for first number in pin code needing to be pressed twice when unlocking booth.
Fix for GIFs not generating when taking photo sessions.
Fix for say cheese image not appearing if flash was set to off.
Subscription box will auto refresh when subscription is detected.
Fix for S or Space bar starting session when changing text in language settings.
v7.43.626.2
Fix for subscription validation pop-up showing while offline with an account that had the e-mail address entered with an uppercase letter.
v7.43.719.1
Fix for disabled option to also create GIF re-enabling when settings are reopened.
Fix for sharing screen custom buttons not synching to other booths.
Fix for changing the welcome screen graphics in a copied event, changing the source event. Each event welcome screen is now independent.
Fix for QR Code appearing before photo/video has uploaded to fotoShare Cloud.
v7.43.815.1
Fix for start screen background color not saving.
Fix for Done button on sharing screen not saving custom text.
Fix for Print Layout dropdown not showing the last used template.
Creating new event will use previous event's settings.
Fix for layers panel jumping to align & distribute when clicking on certain layers.
Fix for slideshow link.
Fix for shares not appearing in fotoShare Cloud.
How-to Download
At this time, dslrBooth v6 and older will not automatically show the dslrBooth 7 update. Existing and new customers can download dslrBooth 7 from dslrBooth.com/download
If you already have v7 installed, updating to any future v7 releases can be easily done by going to dslrBooth, Help, Check for Updates.