September 27th, 2022
dslrBooth for Windows – v6.42 GoPro 11 Support
GoPro 11 Support
dslrBooth for Windows now supports the GoPro Hero 11 Black in addition to  the previously supported GoPro Hero 5 through 10. dslrBooth's unique integration  with GoPro automatically sets the camera resolution and framerate as needed by your video timelines. It also seamlessly connects to your GoPro's Wi-Fi connection to download captured footage while automatically connecting back to your regular Wi-Fi network to allow sharing over the internet as well as connection to our companion LumaShare companion app.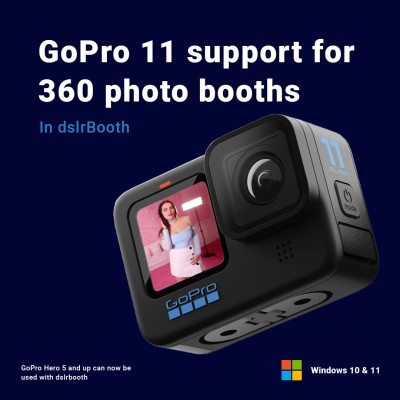 Bug Fixes
The full screen notification window will close instantly when screen is clicked on.
Removal of refresh rate warning message screen for displays with refresh rates under 70 fps.
v6.42.0921
Fix for live view lagging when screen is maximized.
Updated error message shown when GoPro disconnects.
Updated error message when unable to write to Real Time Export Folder.
Fix for software crashing when customize settings is clicked when there is no event name present.
Remove notification that camera settings must be changed in the app that were showing at the wrong time.
v6.42.1012.2
Fix for template changing for all events instead of event it was created for.
Added support for Nikon Z30.
v6.42.1121.1
Add support and fix issues for latest GoPro 11 firmware v1.20.
v6.42.1214.2
Speed up connection to GoPro on slower Wifi cards.
To improve connection reliability and speed to GoPros, we have added support and recommendation for using two Wifi adapters. The first Wifi adapter will connect to the internet to enable sharing while the secondary adapter will keep a constant connection to the GoPro.
v6.42.1223.1
Always use highest alphabetical Wifi adapter for GoPro connection.
On GoPro connection, display informational message on which Wifi adapter to use to connect to the internet.
Fix for issue with French localization.
Download the latest update
This is a FREE update if you have purchased dslrBooth within the last year or have purchased a renewal license. To update your software, open dslrBooth, then go to Help, Check for Updates. You can renew your license from within the software as well.